India's number one hockey goalkeeper Devesh Chauhan's lack of form just a few months before the Olympics may be cause for concern, but the player himself is confident of bouncing back to his best at the right time.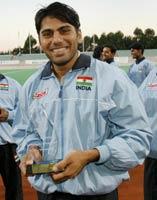 Chauhan's brilliant outing in the Champions Trophy at Amstelveen, The Netherlands, last year prompted experts to compare him with the best in the world, but a few months later his shoddy showing forced the Indian Hockey Federation to make a frantic search for goalkeepers to add to the team's bench strength.
But Chauhan blames a tight international schedule for his lack of concentration and says he is working hard at the fitness camp in Barog, Himachal Pradesh, to rejuvenate himself.
"Yes, I admit it. But it's due to separate reasons. We played a lot of matches recently and it has its effect on a player. It also affected my concentration," Chauhan said.
"But now at this camp I am a lot relaxed. Just trying to get back my concentration. This long break is refreshing and I am looking forward to the Olympics."
That something was terribly wrong with Chauhan's form was evident during the Olympic qualifier in Madrid when the team management replaced him midway through the match against Pakistan with young Bharat Chetri. Even in the four-nation tournament in Australia the goalkeeper failed to impress.
Chauhan said, "Sohail Abbas scored four goals through penalty-corners and three came when I was the goalkeeper. That shattered my morale a lot. My confidence dipped and that reflected in my performance in Australia, where we lost even against Malaysia.
"But the break at this beautiful place is helping me. I am waiting eagerly to play at the Olympics where I would, no doubt, come up with my best performance."
Goalkeeping coach Mir Ranjan Negi also sees a bright future for Chauhan, whose international career would largely depend on how he performs in the mega event.
"This is just a phase in his illustrated career. It's a part of every player's career. So it is not a worrying factor," Negi said.
"It's certainly difficult for a goalkeeper to maintain his form. I am having regular chats with him. He is working hard and, no doubt, he will come back to his best soon. He has to serve the country for a long time," said Negi, who was with the national women's team in similar capacity before joining the men's side a few days back.
He said there is enough time for Chauhan to return to his best as the Olympics are still three months away.
"Women's team's goalkeeper Helen Mary took just two to three months under me to emerge as a quality goalkeeper. So there is enough time for Devesh," he added.