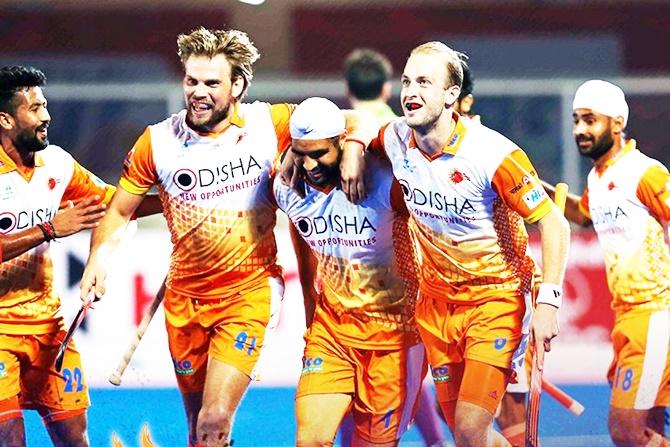 IMAGE: Gurjinder Singh, centre, celebrates. Photograph: Twitter
Gurjinder Singh showed his brilliance while converting a penalty corner to hand Kalinga Lancers a 1-0 victory over Delhi Waveriders in their opening campaign of the Hockey India League, in Bhubaneswar, on Sunday.
Playing in front of their home crowd, Lancers got off to a dominating start. But Delhi led by dragflick specialist Rupinder Pal Singh, gained in confidence as the match progressed but failed to convert some easy chances that cost them the match.
It was an entertaining first quarter that saw great display of man-to-man marking by both team captains Moritz Fuerste and Rupinder Pal Singh who left little room for their opponents to penetrate their respective circles.
Despite several circle penetrations in the second quarter, it took until 22 minutes of the match for Delhi Waveriders to earn their first penalty corner thanks to a quick-thinking Harjeet Singh.
The opportunity went amiss though, Rupinder Pal Singh improvising from the injection but his attempt was blocked away by the Lancers's defender Matthew Dawson.
Waveriders' coach Cedric D'Souza would not be a happy man with his team missing out on converting a single goal from as many as seven penalty corners won by their team. On most occasions, it was either their trapping or injection that was a major cause of concern.
In the 41st minute, another attempt at converting penalty corner was whisked away by a charging Amit Rohidas, who made no mistake in pushing the ball away from the circle.
With the scoreboard reading 0-0, the Kalinga Lancers came out all guns blazing in the final quarter and team captain Moritz Fuerste showed exactly why he is one of the most sought after players in the league by earning his team their first penalty corner of the match.
Gurjinder, who took the strike did not let his captain down as he swiftly put the ball past Belgian Vincent Vanasch, the Delhi Waveriders goalkeeper.
Gurjinder was awarded with a prize money of Rs 50,000 for scoring the 'Goal of the Match'. Delhi Waveriders' Mandeep Singh won a prize of Rs 25,000 for being the 'Young Achiever of the Match'.