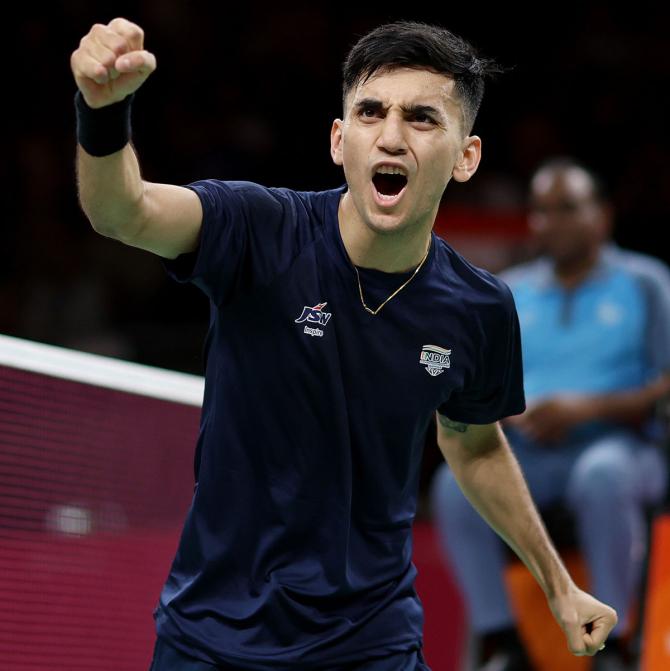 India's star shuttler Lakshya Sen has worked on his "speed and variations" to be battle ready for the new season as he seeks title triumphs in the Asian and European circuits to seal a Paris Olympic berth at the earliest.
Sen began 2022 with his maiden Super 500 title at the India Open and claimed a silver medal at the All England Championships, besides securing the Commonwealth Games gold and playing a part in India's monumental Thomas Cup win.

The 21-year-old from Almora feels that the time is just right for him to push the envelope further in another busy season, comprising big-ticket events such as the Asian Games and the World Championships.

"This is the right time for me. If I can maintain this ranking and keep improving, I have a good chance to qualify. Unfortunately, last time I was close to qualifying but few events didn't happen due to COVID-19 but those are all learning experiences," Sen said.

"I'm mainly focusing on my fitness. After my nose surgery, my fitness went down but I got time during the off-season to get it back. I worked a lot on my speed, quickness in attacking and variation from the backcourt. I am steadily working on my defence.

"Playing the big events gave me a lot of confidence. I have experienced playing in the top circuit. So I will try to remain injury-free and play freely in the event."

Sen underwent a nose surgery for a deviated nasal septum after the World Championships in August. In December, he was in Dubai to train with new coach Anup Sridhar, Anders Antonsen and Sameer Verma.

"I have to plan the season properly as lots of important events are coming up. I have to pick and choose the right ones. It will be all about maintaining a good ranking and pre-tournament and off-season training to keep myself fit.

"I plan to play three events in Asia and three in Europe in next few months. Once Olympic qualification starts in May, I have to see how I do and take a call as the season goes ahead. My target is to qualify in the first half so that I can plan the rest of the tournaments better."

Sen had suffered a narrow defeat in the season-opening Malaysia Open and will compete in the India Open and the Indonesia Masters Super 500.

The European circuit will comprise three Super 300 events in Germany (Mar 7-12), Switzerland (Mar 21-26) and Spain (Mar 28-Apr 2), besides the all-important All England Championships (Mar 14-19).

The second half of the season will have marquee events such as the BWF World Championships (Aug 21-27), Asian Games (Sept 23 to Oct 8) and World Tour Finals (Dec 13-17).

Reigning champion Sen is relishing the prospects of playing in front of the home crowd after missing the fans in the last India Open, which was held behind closed doors due to the COVID-19 pandemic.

"I've a good chance to retain the title. I mean it is a tough draw, there are lots of good players in the same quarter, but I am looking to play all of them," he said.

"This time there will be crowds. During the All England final last year, I was star-struck by the crowd. It was a packed stadium and when you play in front of fans, it gives you extra motivation, so looking forward to it."

His impressive run last year came amid an age-fudging case, just days after he received the Arjuna Award, and Sen said support of his family helped him to stay focussed.

"That was a tough time. I think it was all planned in such a way that two days after the Arjuna Award, it happened.

"But it did not bother me much because I was focussing on my training. We didn't have anything to be worried. My family made sure that I was not worried."