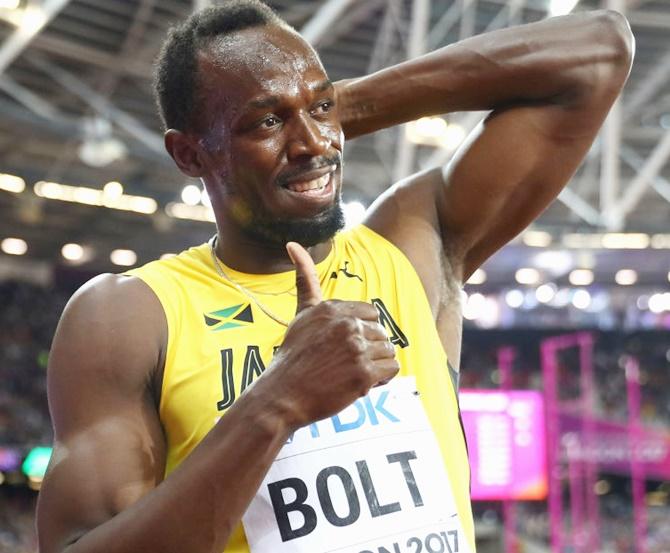 IMAGE: Usain Bolt of Jamaica celebrates during a lap of honour following finishing in third place in the men's 100m final. Photograph: Michael Steele/Getty Images
Usain Bolt was beaten into third place by Justin Gatlin and Christian Coleman in his final individual competitive race, the 100 metres at the World Athletics Championships on Saturday.
Gatlin's win sparked a chorus of boos from the crowd unhappy with the American's doping past.
Here is some reaction to his win and Bolt's surprise defeat:
Bolt: "It's just one of those things. My start is killing me. Normally it gets better during the rounds but it didn't come together. And that is what killed me. I felt it was there.
"It was rough. A little bit stressed. But I came out like at any other championships and did my best.
"I am not fully comfortable in those blocks but you have to work with what you have. I can't complain about that.
"He (Gatlin) is a great competitor. You have to be at your best against him. I really appreciate competing against him and he is a good person."
* * *
Gatlin: "It's not about doing it to Usain... Usain's the man. If you imagine him not being in the sport, where would it be?
"He's a character, he's funny, he's loveable, it's hard to be focused against him because you want to wish him the best and I'm happy to be one of his top rivals throughout the years.
"He's pushed me to be the runner I am today and I'm happy to be in his last race and so many races before that. The night is still his night.
"I tuned it (the boos) out through the rounds and stayed the course. I did what I had to do.
"We are rivals on the track but in the warm-up area we have a good time. He congratulated me and the first thing he said was I didn't deserve all these boos."
* * *
Bolt's team mate Yohan Blake, who finished fourth: "I'm surprised at what happened because Bolt came third -- he's a man for winning and his start has been letting him down."
* * *
Coleman: "It's an historic moment... (Bolt) is somebody I looked up to when I was coming up and watching him run. He's an icon, I was just happy to be on a line with him and it's a humble feeling."
* * *
Denise Lewis, Olympic gold medallist in the heptathlon in 2000: "Justin Gatlin has been through the mill and whatever side of the fence you sit on, it is sport. He was crying and that moved me. He has worked hard. He still has to train as hard as everyone else and turn up and deliver."