'I think the crowd today was a little bit obviously tough for me'
'I'm not here to create enemies. I mean, I love playing here'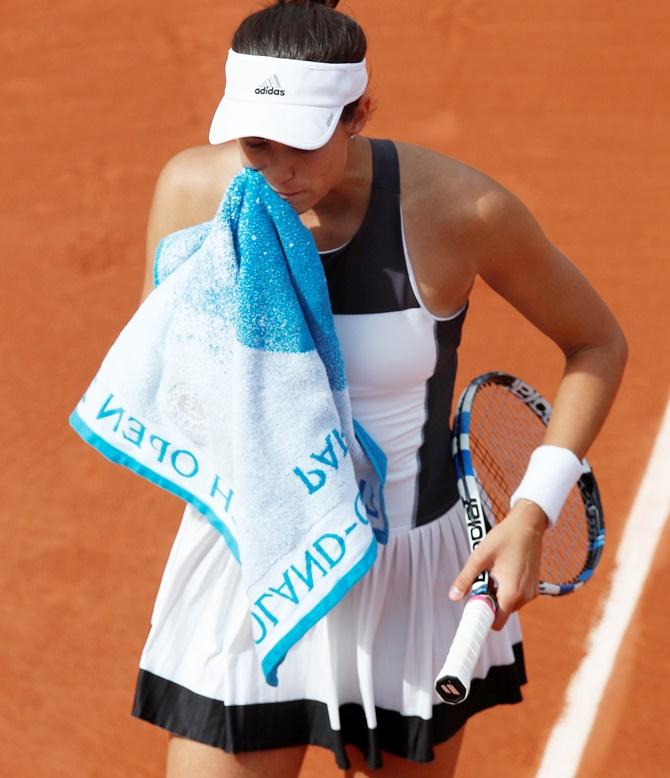 IMAGE: Spain's Garbine Muguruza reacts. Photograph: Christian Hartmann /Reuters
Garbine Muguruza's defence of her French Open title ended in tears on Sunday when the Spaniard had to be escorted from the Roland Garros interview room after breaking down following her fourth-round loss to Kristina Mladenovic.
The 23-year-old Muguruza had been complaining about the vocal and fiercely partisan crowd on Court Suzanne Lenglen during her match against France's Mladenovic when she was overcome by emotion.
"I think the crowd today was a little bit obviously tough for me. I understand. I just think that they were a little bit, sometimes should be a little bit more respectful," the 2016 champion told the gathered journalists.
"I'm not here to create enemies. I mean, I love playing here."
A couple of questions later, as tears rolled down Muguruza's cheeks and she bowed her head, the moderator interrupted the news conference after asking the Spaniard if she needed a break.
Muguruza, who lost 6-1 3-6 6-3, came back after a minute and said she would take any question.
"We're here for the good and for the bad," she explained.
"I love this tournament, no matter what happens."
Asked again about the French crowd's behaviour, she said: "If you had been in my shoes on the court, I think you would have understood. I don't know what people were expecting. I'd rather not say anything more."
Muguruza, however, said she was relieved her tournament was over, having had to cope with the immense pressure of defending the title in Paris.
"It's going to sound weird but I'm actually happy that this stage of the year is done because I wanted to go as far as possible," she said.
"But even if I didn't, I think I'm going to feel much better now to continue the year and everybody is going to stop bothering me asking me about this tournament, so it's going to be a little bit like, 'Whew, let's keep going'."