Campbell gamble pays off as Australia win 4x100m medley relay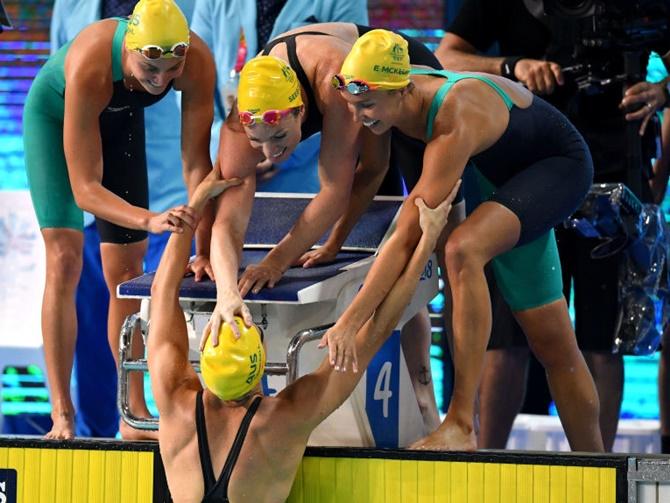 Bronte Campbell repaid the faith in her by Australia's selectors as she chased down Canada's Taylor Ruck in the final leg of the 4x100 metres medley relay to ensure the home nation won their eighth successive Commonwealth Games title on Tuesday.
Australia's coaches had chosen 100m freestyle champion Bronte over her elder sister Cate to bring their team home, with the decision likely to have been heavily dissected by local media had they not won the title.
Cate had swum a blistering split time of 51.00 in the 4x100m freestyle relay to help set the world record and with Canada's strong beginning with Kylie Masse and Kierra Smith, the sprint between Bronte and Ruck was expected to be wafer thin.
The gamble, however, paid off with Bronte and the Canadian hitting the water together after Emma McKeon had dragged Australia back into the race on the butterfly, before the 23-year-old hauled in Ruck in the final few metres.
'Terminator' Titmus back for gold in 400m freestyle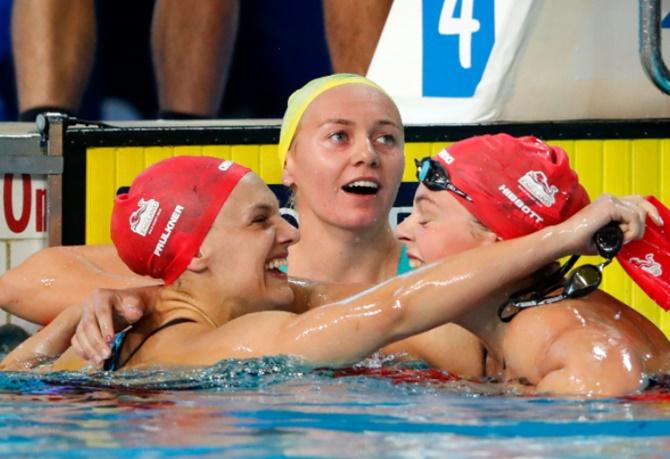 Australia's Ariarne Titmus overcame some of the worst nerves she had ever experienced on her way to clinching a second individual gold medal at the Gold Coast Commonwealth Games when she eased to victory in the women's 400m freestyle on Tuesday.
The 17-year-old, nicknamed 'Terminator', backed up her 800m triumph from a day earlier with a comfortable victory over English duo Holly Hibbott and Eleanor Faulkner.
Titmus opened up an early advantage and was never really challenged as she touched in four minutes, 00.93 seconds, the sixth-fastest 400m freestyle ever recorded. Hibbott was almost five seconds further back.
The time puts her within shouting distance of American Katie Ledecky's world record of 3:56.46 but racing against the clock had been one of the main factors that put her on edge before the event.
"I was so nervous for this race, I've never felt nerves like this before," she told reporters. "It wasn't because I was scared of the result, it was more that if the result didn't work, or I failed on the expectations I set myself.
"If I went in there and swam 4:02, it would have been a fail, because I went 1:54 earlier in the week (in the 200m freestyle).
"(But) translating that to the 400 metre swim, it's perfect."
Titmus, who had sought to become the first woman since fellow Australian Karen Moras in 1970 to win the 200-400-800 treble at the same Games, also won gold in the 4x200m freestyle relay and silver in the individual 200m freestyle.
Her only individual defeat came at the hands of fellow 17-year-old Taylor Ruck of Canada, arguably the swimmer of the meeting for her versatility and seven-medal performance ahead of the 4x100m medley relay later on Tuesday.
Australia's head coach Jacco Verhaeren, however, said he had been impressed with Titmus's first international competition, adding that she was only going to improve as she worked towards the 2020 Tokyo Olympics.
"There's a lot of learning with a young athlete," he said.
"The Commonwealth Games is pretty different from swimming at trials or swimming at world junior championships or world championship last year...
"This a multi-sport environment and that is very different, living in the village, eating in the village, being surrounded by other athletes. It's great that she can gain that experience and perform at a great level."