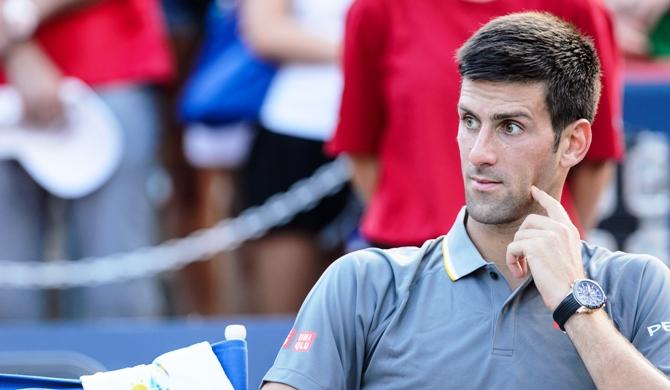 IMAGE: Serbia's Novak Djokovic during a changeover. Photograph: Getty Images
Six weeks after completing one of the greatest seasons in tennis history, Novak Djokovic begins his 2016 campaign and warm-up for his Australian Open defense in Qatar.
The Serbian, also current holder of Wimbledon and the US Open, heads a strong field at the Qatar Open starting in Doha on Monday, which also includes Rafael Nadal, Tomas Berdych and defending champion David Ferrer.
All eyes though, at least at the start, will be on Djokovic to see if he can maintain the exceptional heights he achieved last year and to gauge his form ahead of the first Grand Slam of the year, which begins in Melbourne on January 18.
The 28-year-old dominated men's tennis last year, all but sweeping away the competition to take three majors, make 15 consecutive tour finals and win more than $21 million (19 million euros) in prize money.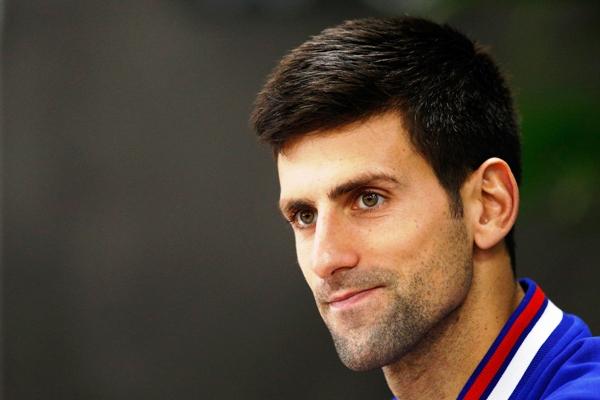 IMAGE: Novak Djokovic of Serbia speaks to the media. Photograph: Dean Mouhtaropoulos/Getty Images
He also became the third man to reach all four Grand Slam finals in a year, losing out only in the French Open to Stan Wawrinka.
Given his achievements last season, Djokovic must be looking to become the first player since Rod Laver, in 1969, to win all four Grand Slams in a single season. There is also the extra prize of a "fifth major" this season, with an Olympics gold medal up for grabs in Rio in August.
"Here we come again to a new season," Djokovic said in an upbeat statement before arriving in Qatar on December 30.
"I'm so excited to come back and perform at my best in this season opening tournament, stay tuned!" Last year though, Doha represented one of his rare failures.
The big serving Croatian Ivo Karlovic beat him in three seats in the quarter-finals.