Former French football star and Arsenal legend Thierry Henry kept his date with the Mecca of Indian Football, Kolkata, as he enthralled the crowd at Rabindra Sarovar stadium by lighting the lamp at Atletico de Kolkata's home game Indian Super League match against Mumbai City FC on Tuesday.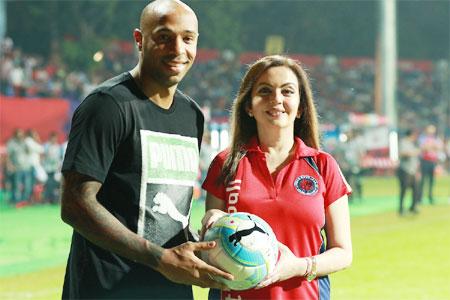 Henry, along with ISL chairperson Nita Ambani and ATK co-owner Sanjeev Goenka, was the special guest at the match.
Wearing a black t-shirt, grey jeans and black sneakers, the 39-year-old France 1998 World Cup winner was all smiles as he walked around the centre of the pitch flanked by organisers of the ISL. The stadium roared in unison as the announcer spelt out his name for the first time as Henry walked into the ground waving to his fans and a roar of "Henry Henry" engulfed the stadium.
Just before the start of the game Henry shook hands with players of both the teams but sat glued to the proceedings on the turf.
At the lemon break, Henry was seen with ATK co-owner and former India cricket captain Sourav Ganguly on the pitch.
Goenka along with Ganguly felicitated Henry with a tri-colour scarf. Henry, Ambani and Ganguly later clicked selfies.
"He will watch the entire match and will also interact with the players ahead of the playing of national anthem and sign off by attending the prize distribution ceremony," an
official said.
Mrs Ambani will also join Henry who will head to Mumbai on Wednesday wrapping his one-day visit to the city.
In Mumbai, Henry will attend a friendly match between ArsenalFootballSchool and Reliance Foundation Young Champ on Wednesday afternoon.
Image: Thierry Henry and Nita Ambani in Kolkata on Tuesday
Photograph: ISL