Up on Henman Hill, the faithful could not believe their eyes -- "Tiger Tim" was roaring to victory.
Then, true to form, Tim Henman had his fanatical fans holding their breath through five match points before he finally defeated Australian Mark Phillippoussis to take his place in the Wimbledon quarter-finals.
After the agonising penalty shootout that sent England's soccer team out of Euro 2004 last week, a new form of summer sporting torture has taken over -- the Henman tiebreak.
But the fans just lapped up both the agony and the ecstasy.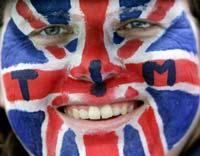 For "Henmania" ruled on the grassy knoll at Wimbledon where hundreds of fans packed together in front of a giant screen to watch their hero wrestling with his tennis demons.
"We really needed a lift after the football," said Felicity Wright, hardly daring to look as she hid behind her Union Jack flag when the match reached its climax.
"These people are here because they really want to be here. These are genuine fanatics," she said.
All around her, fans had their faces painted in the red and white colours of the flag of Saint George, England's patron saint.
They yelled themselves hoarse on every point. The lagers flowed to help parched throats to keep on screaming.
"The atmosphere is electric, I must say the alcoholic consumption levels here are spectacular," said Roger Horlock.
But surely only the British
would be insane enough to abandon the "couch potato" comfort of watching television at home to sit on a hill at sunset staring in suspense at a giant screen?
"This is not insanity," said Horlock. "This is the eccentric nature of the Brits. This is what is so wonderful about Britain."
The contrast could not be more stark.
On Centre Court, Tim Henman's wife and parents sit impassively in the stands. No emotion flickers across their faces. This is Middle England at its most correct and formal.
Out on Henman Hill, his fans are going berserk. Hearts are worn firmly on sleeves. When he finally wins, they leap en masse to their feet to cheer the player who they fervently hope will end a 68-year drought for British men at Wimbledon.
So, pity the poor Australians nestled in among these fervent British patriots.
One Australian waving his national flag bravely paraded in front of the screen. His cries of "Aussie, Aussie, Aussie" were drowned out by the booing crowd.
But Australian David Kennedy, who flew in from Perth the day before on holiday, lapped up Henman Hill.
"We have only got three days in London but I wouldn't have missed this for the world. We love rivalries. That's what makes sport so great," he said, launching a lonely cheer for his compatriot Philippoussis.
"I've been text messaging all my friends back home. They are all so jealous. They have even spotted me on TV."