'The picture that has been painted of me is not right'
'I want people to know I am 100 per cent clean and I am not on any drugs'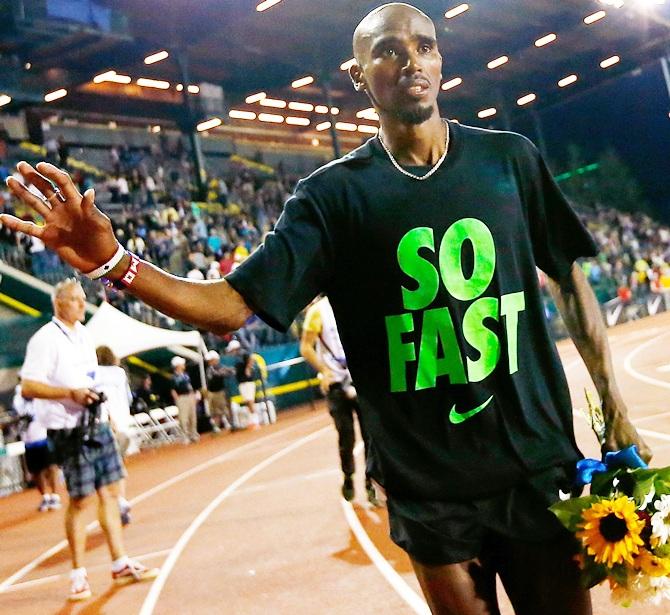 Great Britain's Mo Farah reacts. Photograph: Jonathan Ferrey/Getty Images
Britain's double Olympic champion Mo Farah said on Tuesday he was '100 per cent clean' and would leave his long-time coach Alberto Salazar if it was proved the American was guilty of violating any doping rules.
The 32-year-old Farah told Sky Sports News he had dedicated "half his life" to his sport and had never taken any kind of performance-enhancing drug in his career.
Farah, the hero of the London Olympics where he won a 5,000 and 10,000 gold double, has been under the spotlight since Salazar was accused of a systematic breach of the rules in a BBC documentary earlier this month.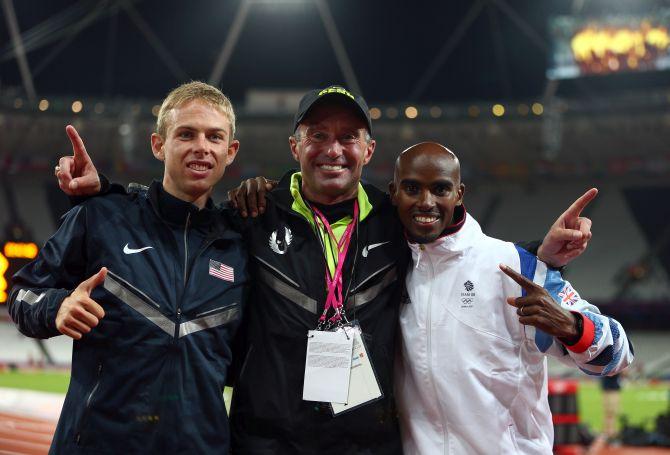 Great Britain's Mohamed Farah celebrates winning gold with silver medalist Galen Rupp of the United States and coach Alberto Salazar (centre). Photograph: Michael Steele/Getty Images
Asked if he had ever used testosterone, EPO or human growth hormone, drugs to treat a thyroid problem or performance enhancing drugs he replied: 'No never'.
"I was shocked, I couldn't believe what I saw," he replied when asked about his reaction to the allegations made against Salazar, the head of the Nike Oregon project.
"When I saw it, I wanted some answers. I spoke to Alberto and he gave me some answers. He told me these were just allegations and he would prove it."
He continued: "I work so hard for what I do and to achieve what I have. It has taken me half my life. For people to think I've taken a short cut -- its not right. It's not fair.
"The picture that has been painted of me is not right. I'm 100 per cent clean. I love what I do and want to continue winning medals.
"I want people to know I am 100 per cent clean and I am not on any drugs. The only medication I am on is for asthma which I have had since I was a child."
The BBC programme Panorama, in association with American website ProPublica, made a series of allegations including that Salazar had given Olympic 10,000 meters silver medalist Galen Rupp the banned anabolic steroid testosterone.
Salazar issued a lengthy and detailed denial of the allegations last week.
Farah was not accused of any wrongdoing in the BBC documentary but has been tarred by association.
But he told Sky: "If it is proven that he has crossed the line, then I am out, I would not work with Alberto, trust me on this. I work every day and put my body on the line. I go through hell.
"Seven months a year I am away from my family. I don't see my kids I don't see my family. I miss my kids' birthdays, anniversaries, and I will never be able to get that time back, and that kills me.
"For people to label me a cheat is not fair. If I'm a cheat, prove I'm a cheat or just leave me alone to run and make my country proud."
Farah has admitted missing two doping tests in February 2010 and February 2011 when he did not hear a doorbell because he was asleep.
And he added: "I have taken 148 tests since 2007 and 103 tests since the 2012 Olympics -- every single one has been negative."
Salazar is being investigated by both the United States Anti-Doping Agency and its United Kingdom counterpart.
Farah, who was speaking to Sky during a break in his training schedule at altitude in the French Pyrenees, is due to return to competition at the Monaco Diamond League meeting on July 17.