World number four Andy Murray admits he still needs to improve his serve if he is to break his grand slam duck at the Australian Open later this month.
The Scot, who was beaten in the final at Melbourne Park by Roger Federer last year, begins his 2011 season on Monday at the Hopman Cup, where he and Laura Robson will represent Britain in the mixed team event for the second successive year.
Looking fit and strong after a month of training in Miami, Murray said the form of world number one Rafa Nadal and 16-times grand slam champion Federer meant it would be even tougher to win one of the sport's four biggest events.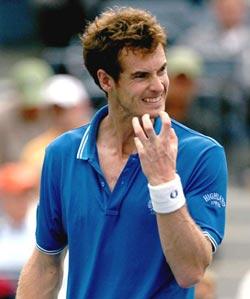 "Last year's Australian Open was one of the best events I've played in my life," Murray said at a press conference on Sunday.
"I played some of my best tennis so I'll have to play even better if I want to win because Rafa and Roger are playing so well just now."
Murray, whose other grand slam final appearance came at the US Open in 2008, said he had been focusing on particular areas of his game in the short off-season.
"I've worked a lot on my serve and I'll keep working on it the next couple of weeks," Murray said. "I think from the baseline I've matched up well with Roger and Rafa in the past, but I'll need to serve well and return well against them if I want to beat them."
Murray will take on Potito Starace of Italy in his Hopman Cup opener on Monday and will also play France's Nicolas Mahut and American John Isner in his other round-robin matches.
The Scot said the way he played in his last match of the year, the semi-final of the ATP World Tour Finals against Nadal in London at the end of November, had given him plenty of confidence with which to start 2011.
"It was a great match, one of the best matches I'd played in during the year, said Murray, who lost out in a final set tiebreak.
"I think both of us played a really high standard and it was a good way in many ways to finish the year.
"It would have been great to have won the match but at the same time having lost I realised that I played a great match but I still need to get better if I want to beat Rafa and Roger in the slams."