'We have taken it up officially with the Finance Ministry and are hopeful of an early resolution to the issue'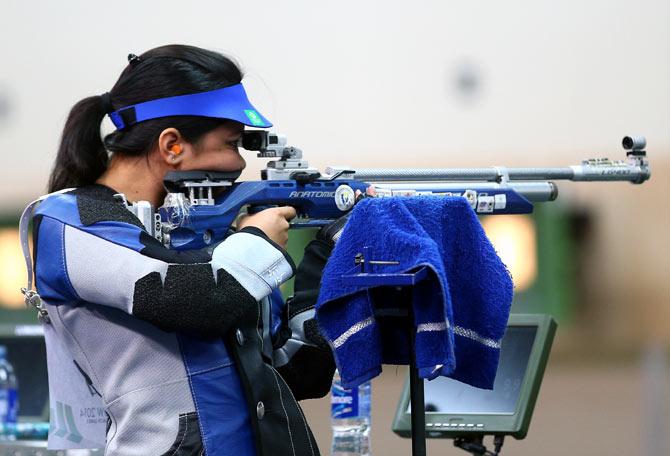 IMAGE: NRAI assured that it will 'do all it can' to ensure the shooters are not affected. Photograph: Paul Gilham/Getty Images
Apprehensions following the imposition of GST on sports equipment has forced the National Rifle Association of India (NRAI) to 'approach' the finance ministry and take up the cudgels on behalf of a very concerned shooting community.
The NRAI assured that it will 'do all it can' to ensure the shooters are not affected.
The inclusion of sports goods under the higher tax slabs of the Goods and Services Tax has left many shooters worried about high cost of procuring equipment from abroad, and renowned pistol exponent Jaspal Rana has been the most vocal in expressing concerns.
NRAI president Raninder Singh said, "We have taken it up officially with the Finance Ministry and are hopeful of an early resolution to the issue. NRAI will do everything in its power to ensure that the athletes and the sport are not adversely affected."
As someone who is currently coaching the Indian junior pistol team, the 41-year-old Rana empathises with the plight of his aspiring wards and their anxious parents.
"Imposing GST on sports goods will act as an obstacle, especially to those who are financially weak.
"Instead of encouraging the athletes who can bring glory to the country, you are imposing an additional unnecessary burden of 18-28 percent of GST on sports equipment."
Elaborating on the problems, he said, "Parents of aspiring shooters coming from not-so well-to-do families buy equipment after taking loans from banks or borrow money, just imagine what will they do now.
"These equipment are not produced in India, they have to be imported, so how will an athlete from a poor family manage."
Rana, a multiple-time gold medallist at the Asian Games, Commonwealth Games and several other international tournaments, was also critical of the national federation.
When told that NRAI senior vice-president and MP Kalikesh Narain Singh Deo raised the issue in the Parliament recently, Rana asked what were they doing before GST was officially imposed?
"I don't see any step being taken in this regard by the federation or the government. About the problems faced by the sportsman till now, none from the government or federation has expressed concern on the social media or any other platform.
"Whereas our sports minister has enough spare time to inaugurate a range of five lanes."
Under Rana, the junior shooters gave a good account of themselves in the recent world championships at Munich, finishing second overall.
"Now you see what countries like USA and China will do. They are not going to keep quiet. We had a good platform and the government's policy on import till now was liberal. But this could be a huge setback if the government doesn't review its tax policy."
The Padma Shri went on, "Whatever we have achieved in our time was without much support from the government. It is a pity that the government wants to impose GST on this. I can't understand how much profit can they earn from it. 100 crore, 200 crore, can they afford an Olympic medal after saving this amount?"
Under the new policy, 28 per cent tax will be levied on pistols and revolvers while rifles, shotguns and ammunition are in the 18 per cent tax slab. The rest of the equipment is in the 12 per cent slab. Shooting equipment was exempt from any tax before GST came into the picture.
Weapons and equipments used in shooting sports are imported from countries such as Germany, Italy and UK.