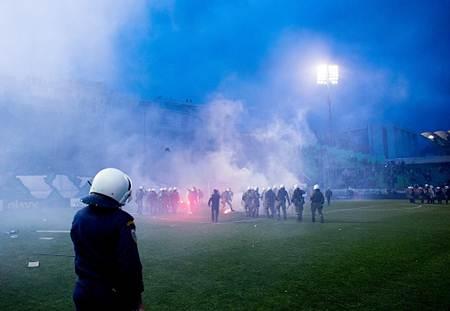 Matches in Greece's professional football leagues have been suspended indefinitely in a crackdown on violence, the Super League said on Wednesday.
The move follows a pitch invasion at the end of the Athens derby last weekend and a Super League board meeting which ended in a brawl on Tuesday, with Greece's recently-elected Syriza ruling party aiming to stamp out the problem of crowd violence.
"What we have been informed is that the Super League and the Football League have been suspended indefinitely," Super League president Giorgos Borovilos told reporters.
"We have a new government who are looking to bring this subject up for discussion and implement state laws related to it."
Image: Police clash with Panathinaikos hooligans ahead of the Super League match between Panathinaikos FC and Olympiacos at Apostolos Nikolaidis Stadium in Athens, Greece.
Photograph: Vladimir Rys Photography/Getty Images