Chandigarh's Harmeet Kahlon maintained his overnight lead to win the Rs 50 lakh EMAAR-MGF PGTI Championship, which concluded at the Karnataka Golf Association on Friday.
Harmeet carded a level-par 72 on the concluding day to claim a two-stroke victory and take home the winner's cheque of Rs 810,000 as well as claim his berth at the US $2.5 million 2007 Dubai Desert Classic.
"The first day I saw the trophy I was attracted to it," said Harmeet, basking in the glory.
The third leg of the 2006-07 season on the Professional Golf Tour of India, the EMAAR-MGF PGTI Championship is being promoted by golf in DUBAI.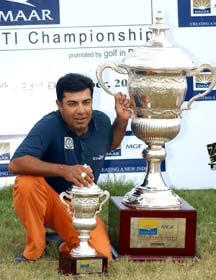 Harmeet Kahlon started the day with two bogies early on -- he dropped a stroke on the third where he hit his drive left, hit his second shot to 35-feet and three-putted and followed it up with another bogey on the par-three fourth after he hit a wrong club off the tee and found the greenside bunker from where he failed to hole out for par.
He made another bogey on the seventh hole where he hit his tee shot left and hit his second over the green.
However, he holed 15-footers for birdie on the par-three eighth hole and the par-five ninth hole to make the turn at one-over-par, 37.
The Chandigarh pro played consistently in the back nine, picking up birdies on the par-five 14th and the par-three 15th where he hit his five-iron to ten-feet and holed it, to get to one-under for the day and ten-under-par for the tournament.
A bogey on the last after he hit his drive just into the hazard from here he had to chip chipped out, eventually hitting it to 35-feet and making a comfortable two-putt to win, was good enough to give him a two-stroke victory.
"My mental training really helped me today as a few things upset me in the beginning but I maintained my composure and it worked to my benefit," added Harmeet, who got his old caddy, Lakhai, back on his bag after a break of two years and got lucky.
"I am looking forward to playing the Dubai Desert Classic and found myself thinking of it while I was still on the course, but maintained my focus," said Harmeet.
A second place finish gave Digvijay Singh his best finish in Bangalore so far.
"My putter gave me a lot of problems today," said Digvijay, who started the round perfectly with back-to-back birdies on the second and third holes.
He chipped in for a birdie on the second hole and holed a 12-footer for birdie on the next. However, he three-putted from six-feet to drop his first shot of the day, on the par-five fifth hole but recovered with a birdie on the par-three eighth hole to make the turn at one-under-par, 35.
The back nine was not much better -- Digvijay three-putted form 35-feet to card a bogey on the 13 th hole but birdied the par-three 15th hole after hitting his four-iron to two feet. He then holed a 40-footer for birdie on the 16th for birdie.
Unfortunately, a double bogey on the 17th where he hit his ball into the right rough and then went on to three-putt saw him finish the day at level-par, 72 and the tournament with a total of 282.
Meanwhile, local golfer Chinnaswamy Muniyappa finished sole third, while SSP Chowrasia and Ashok Kumar tied for fourth place, one stroke behind at four-under-par, 284.
Muniyappa carded a one-under-par, 71 with birdies on the eighth, 12th and 13th holes but a bogey on the third hole and a double bogey on the par-four sixth hole marred his card.
"I am very happy with my performance this week. One bunker shot spoiled my round today as I made a double bogey after I skulled the ball out of the bunker," said Muniyappa, who was suffering from fever which was calmed by two injections.
"I started badly but made up on the back nine, so I am not complaining," he added.
SSP Chowrasia had a dismal outing.
"I did not hit the ball or putt well today and the double bogey on the last hole cost me," said the professional from Kolkata. "But I enjoyed the tournament as one cannot win every week," added Chowrasia positively.
Playing his first professional tournament, Asian Games silver medallist Gaganjeet Bhullar enjoyed his first experience of competing amongst the professionals, finishing the tournament in 11 th place.
"I played with Mukesh all four days and learnt a lot from him. He is a legend in Indian golf and hopefully I can be like him some day. It is not an easy job to play with the professionals as they are all very good, so I plan to raise the level of my game and play as well as them," said Gaganjeet.
Meanwhile four-time Indian Tour Order of Merit winner, Mukesh Kumar finished ninth.
"I did not play as well as I expected and just struggled with my putting all week," said Mukesh.
D Raghavan won the prize for the top amateur in the tournament, after carding a final round 80 taking his overall total to 311.
FINAL SCORES (AFTER 72 HOLES):
279_Harmeet Kahlon ( 67,72,68,72)
282_Digvijay Singh (73,66,71,72)
283_Chinnaswamy Muniyappa (72,66,74,71)
284_SSP Chowrasia_(71,68,70,75); Ashok Kumar (72,69, 70,73,73)
285_Amardip Singh Malik (66,75, 75,69)
287_Harinder Gupta (65,74,79,69)
288_ AS Lehal(73,72,68,72)
289_Mukesh Kumar (70,72, 74,73), Arjun Singh (71,75,68,75)
290_ Gaganjeet Bhullar (71,71,74,74), Sandip Syal (74,72,69,75)