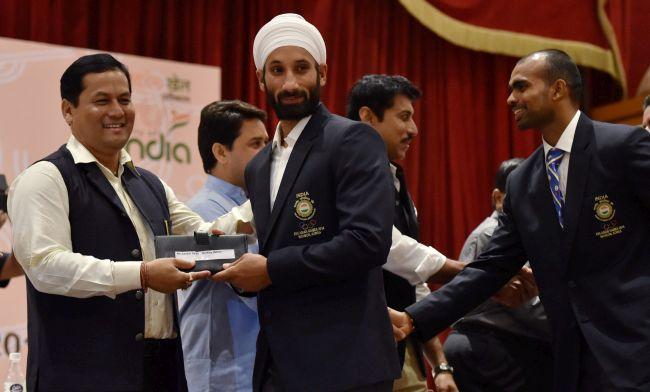 Sports Minister Sarbanada Sonowal presents a cheque to hockey team captain Sardar Singh during a felicitation for the Asian Games medallists in New Delhi. Photograph: PTI
Impressed with the hockey team's showing at the recently-concluded Asian Games, Sports Minister Sarbanada Sonowal said the gold medal triumph could act as a "trigger" for more good things to come.
"The gold in hockey has breathed fresh life in the sport. The entire country salutes you," said Sonowal, on the sidelines of a felicitation ceremony for the medallists, in Delhi, on Monday.
India beat Pakistan 4-2 in the penalty shoot-out to clinch the men's hockey gold after 16 years. It also ensured the team a berth at the 2016 Rio Olympics.
India won 57 medals, including 11 gold, 10 silver and 36 bronze, in the 17th edition of the Games in Incheon.
While the gold medal winners were handed cheques of Rs 20 lakh each, the silver and bronze medallists got Rs 10 and six lakh respectively.
"The achievements of our sports persons are inspiring, considering the high level of competition. Those who have won gold should strive to retain that and look forward to the Rio Olympics (in 2016)," Sonowal said.
"Those who have won silver and bronze should also look forward to Rio and all upcoming competitions," he added.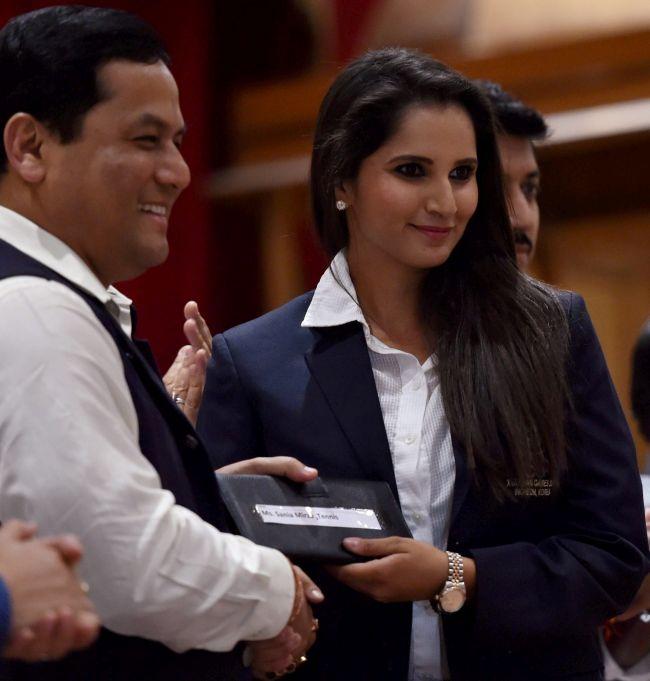 Sania Mirza is felicitated by Sports Minister Sarbanada Sonowal. Photograph: PTI
Tennis ace Sania Mirza, who bagged gold in the mixed doubles with Saketh Myneni, in her address, said: "All the athletes put in a lot of hard work for the tournament. It's a dream of every athlete to hold that national flag and see the national anthem being played when the flag goes up."
Praising the improvement shown by the country's women athletes at the Games, Jiji Thomson, Director General, Sports Authority of India, said: "In 2010, the women athletes won 20 medals out of 65, and in 2014 they have won 27 of 57, which is 47.37 percent. One lesson that we have learnt from these Games is that we should play to our strength and the best should always represent the country.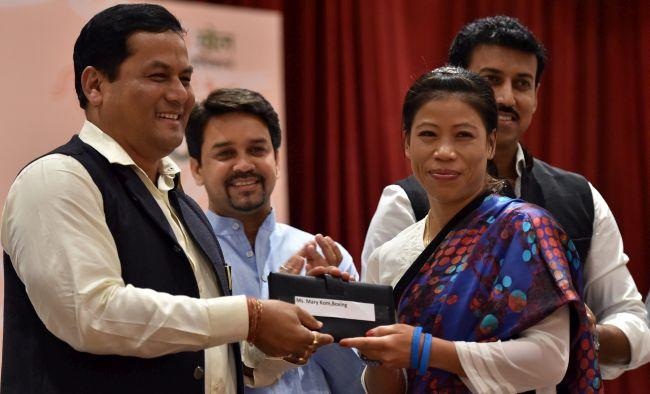 Mary Kom is felicitated by Sports Minister Sarbanada Sonowal. Photograph: PTI
Magnificent Mary Kom, who became the first Indian woman boxer to win a gold medal at the Asian Games when she won the flyweight (51kg) class, revealed she was under tremendous pressure going into the competition.
"I was very scared before going. I was thinking which medal will I get? I met minister Sonowal Sir and he kept saying, 'Win a gold, win a gold'. I said, 'Sir please don't put pressure on me'. Finally, I won and I am happy!" she said.
Asked about fellow-boxer Sarita Devi's controversial defeat at the Games, Mary Kom urged sportspersons not to give up.
"This is one Asian Games. There will be other opportunities, just don't give up. You can do it. I have will (power) and I don't know from where it comes. I have three kids, but I still have lot of fighting spirit. You can do it too," she said.