Matches would take place under strict conditions - and with no fans in stadiums.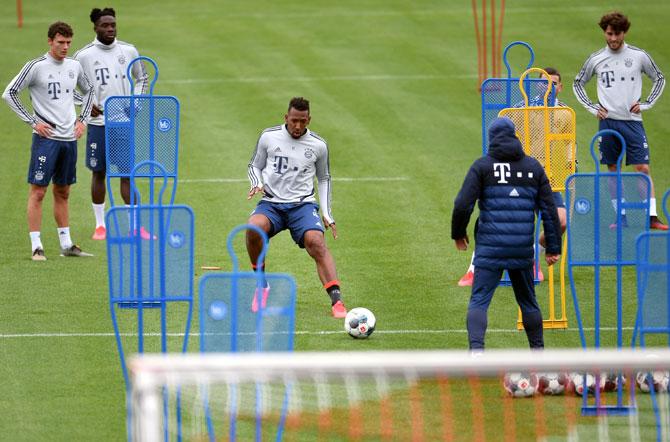 Germany's Bundesliga is set to be given the green light for a restart, probably from May 15, as part of measures to further ease the country's coronavirus regulations, two people familiar with the preparations told Reuters.
The Bundesliga would be the first of the five major European domestic soccer leagues to resume play after a stoppage which has seen almost all football put on hold around the world since mid-March.

German states are set agree on the restart in a teleconference with Chancellor Angela Merkel scheduled for Wednesday, the sources said. Matches would take place under strict conditions - and with no fans in stadiums.

So far Portugal, Poland and Hungary have given dates for restarting their national leagues, all towards the end of May.

Germany's professional teams have been training since mid-April, divided into small groups and under strict conditions which include extensive testing of all players and coaching staff.

The German Football League (DFL) has submitted a health safety plan for games without spectators which includes regular testing of players but no quarantines for entire squads in cases of positive tests.

However, it says that if a player is infected, decisions on the measures to be taken lie with the local health authorities.

On Monday, the DFL said that it had registered 10 positive cases in a blanket test of 1,724 players and staff at its 36 first and second division clubs.

The DFL said a second round of tests would be carried out in the next week and there "may be isolated positive test results".

Some media reports suggested that hopes of a restart had been hampered by the behaviour of players at Hertha Berlin on Monday.

Hertha forward Salomon Kalou posted a video on social media showing him shaking hands with players and interrupting a team mate's medical exam. The club suspended the Ivorian, who apologised and said his behaviour did not reflect the club's instructions to staff.
Bulgarian clubs to resume training within days - sources

Bulgaria's top soccer clubs will resume training within a few days for the first time since the coronavirus stoppage, two sources familiar with the matter told Reuters on Tuesday.

"We are in constant contact with the Bulgarian Football Union (BFU) and they told us to inform the players that training sessions will resume very soon," a top club official said on condition of anonymity.

The league has been on hold since March 13 as part of countrywide lockdown measures which have begun to be eased. Team training could re-start later this week or early next week, the sources said. The BFU was not immediately available to comment.

BFU vice-president Atanas Furnadjiev told Bulgarian national television the governing body was hoping to resume its top league in early June, subject to government approval.

Furnadjiev said all players would undergo testing for the novel coronavirus before they can return to training facilities, adding that the BFU will pay for the tests.

The BFU was also considering allowing coaches and other officials aged over 65 to sit in the stands during matches amongst other guidelines, he said.

Ludogorets, which has won the title for the past eight seasons, topped the 14-team league with 55 points from 23 matches, nine more than Lokomotiv Plovdiv, Levski Sofia and CSKA Sofia.

The BFU has yet to decide in what format the championship will resume. Previously it involved playoffs between the top and bottom teams after 26 regular matches.

As of Tuesday, the Black Sea state had 1,689 confirmed cases of the new coronavirus and 78 deaths.