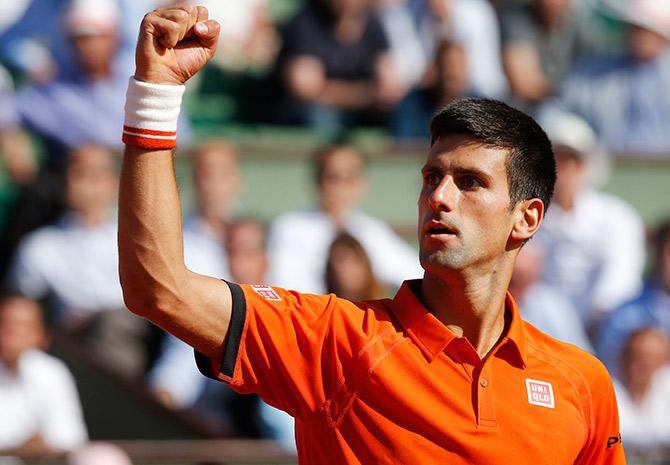 Novak Djokovic of Serbia reacts during his quarter-final against Rafael Nadal of Spain at the French Open. Photograph: Jean-Paul Pelissier/Reuters
Novak Djokovic beat defending champion Rafael Nadal 7-5, 6-3, 6-1 to move into the semi-finals of the French Open, in the process spoiling the Spaniard's 29th birthday celebrations.
It took the top-seeded Djokovic seven attempts to topple Nadal, seeded sixth this year, at Roland Garros.
The win helped the Serb improve his overall record against the Spaniard, a winner in the French capital in each of the last four years, to 21-23.
It was the sixth time Djokovic had bested Nadal on his favored clay. No other player has beaten the Spaniard as many times on the red dirt.
Djokovic also beat Nadal to the title at Monte Carlo earlier in the year, and has now won six of his last seven matches against his great rival.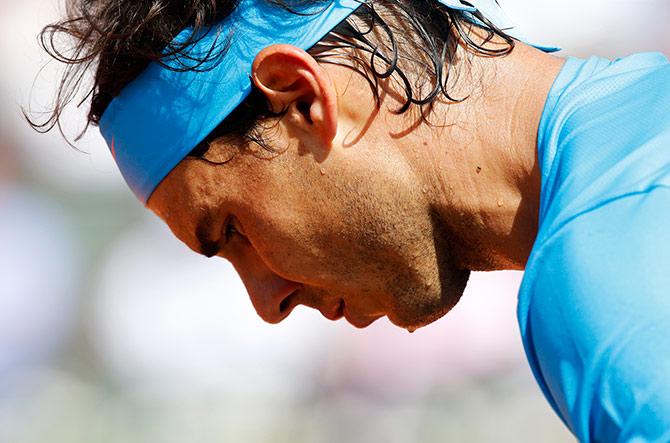 Rafael Nadal of Spain during his quarter-final against Novak Djokovic of Serbia at the French Open. Photograph: Jean-Paul Pelissier/Reuters
Nadal had beaten Djokovic in each of their six previous meetings in the clay court major, including the final last year.
The loss was only Nadal's second at Roland Garros, the first being the fourth round defeat at the hand of Swede Robin Soderling in 2009.
The Spaniard is a nine-time winner at the event but came into this year's edition with a horrible run of results on the red dirt, without a single title win.
And his poor form continued, with his opponent taking full advantage of the same.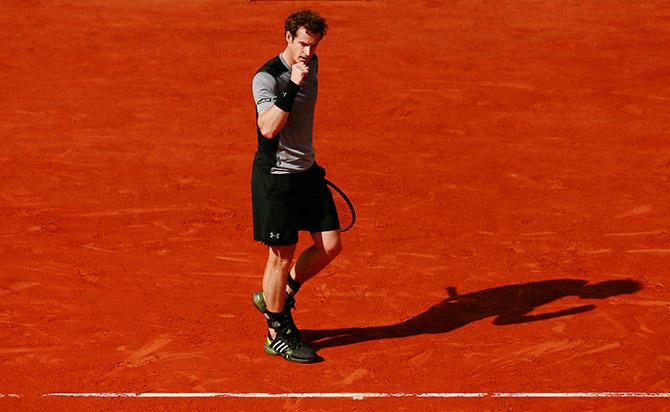 Great Britain's Andy Murray celebrates his quarter-final win over David Ferrer of Spain. Photograph: Jason Cairnduff/Reuters
Andy Murray preserved his 100 percent clay court record in 2015 to reach the semi-finals with a 7-6(4), 6-2, 5-7, 6-1 win over David Ferrer.
Murray went about his task in a businesslike manner to reach the last four for the third time.
A backhand volley winner gave him the first set, and after squandering a match point in the third set, the British third seed sealed his 15th successive win on red dirt with an unreturnable serve.
He will next face Djokovic for a place in the final.