Holder Muguruza stamps some star-appeal on Paris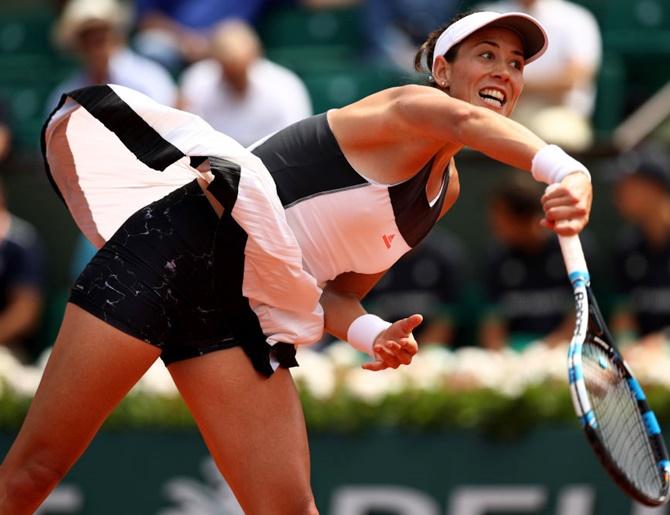 IMAGE: Garbine Mugaruza of Spain serves during ladies singles third round match against Yulia Putintseva of Kazakhstan. Photograph: Clive Brunskill/Getty Images.
Roland Garros breathed a sigh of Gallic relief on Friday when defending champion Garbine Muguruza navigated her way through a draw bereft of star appeal to reach the French Open fourth round.
With pregnant Serena Williams absent, Maria Sharapova denied an invitation and top seed Angelique Kerber a first-round casualty, familiar faces are relatively thin on the ground in Paris, and Muguruza's 7-5, 6-2 win over Kazakh Yulia Putintseva was greeted warmly by fans on the Philippe Chatrier court.
"She's my favourite of the big names," 26-year-old Amelie Brives told Reuters, smiling as Muguruza hesitantly addressed the court in French.
"But I hope Kiki wins in the next round," she added, alluding to an anticipated last-16 clash with home favourite and 13th seed Kristina Mladenovic, who must first beat American Shelby Rogers later on Friday.
Fourth seed Muguruza, though, kept up her side of the bargain with a dogged performance on the main showcourt.
Putintseva, a pocket rocket early in the first set, fizzled out as the contest wore on and Muguruza turned up the power.
The Venezuelan-born Spaniard raised the decibel level as she nosed in front, teaming each pummeled groundstroke with a loud cry, signalling her determination.
With rain and storms forecast for later on Friday, Muguruza will be pleased to have booked her passage with the minimum of fuss, although if Mladenovic is her opponent in the fourth round she can expect an entirely different reception from the locals.
Raonic through to last 16 after Garcia-Lopez retires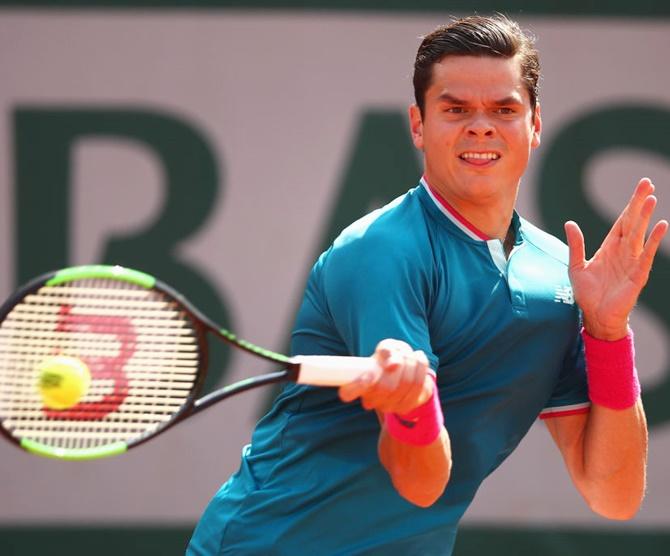 IMAGE: Milos Raonic of Canada plays a forehand. Photograph: Clive Brunskill/Getty Images
Fifth seed Milos Raonic reached the French Open last 16 after Spanish veteran Guillermo Garcia-Lopez retired at the start of the second set on Friday.
Raonic cruised through the first set 6-1 in 21 minutes and led 1-0 in the second when the Spaniard retired at the changeover.
The Canadian will now face the winner of the third round match between Grigor Dimitrov and Pablo Carreno Busta.
Dimitrov rapier fails to pierce Carreno Busta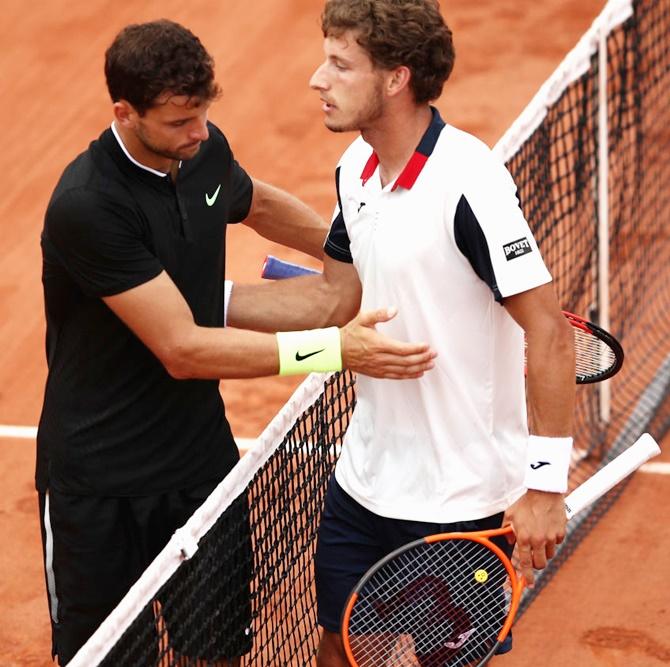 IMAGE: Grigor Dimitrov of Bulgaria congratulates his opponent on victory. Photograph: Julian Finney/Getty Images.
In a contest between two closely matched gladiators, timing is often everything for the holder of the lighter weapon.
So it proved on Friday at the French Open bullring when the rapier of Grigor Dimitrov came up against the bludgeon of Spain's Pablo Carreno Busta.
Supremely gifted, the Bulgarian 11th seed has a stylish all-round game showcased by a silky smooth single-handed backhand, which was to prove his downfall in a 7-5, 6-3, 6-4 defeat in the circular arena of court one.
Nicknamed 'Baby Fed' on the basis of that shot, comparisons with incomparable Swiss master Roger Federer have dogged Dimitrov ever since.
Now 26, he has a career-high ranking of eight and semi-finals at Wimbledon and the Australian Open to his credit - eye-catching statistics but, for those who have touted him as a Grand Slam winner-in-waiting, evidence of unfulfilled potential.
On Friday, bidding to make the last 16 of the claycourt major for the first time, he looked fit, sharp and focused as he raced to a 4-0 lead.
But the 20th-seeded Spaniard Carreno Busta, pummelling groundstrokes deep into both corners, turned the match in a 20-point sixth game, winning it on his second break point after Dimitrov failed to covert four chances of his own.
That seemed to melt the steel in the Bulgarian's game, and he speared a backhand into the net to concede the first set and the second and the third.
In all, unforced errors on his signature shot cost him 29 points - more than Carreno Busta's combined total for backhand and forehand.
The win took the Spaniard into the fourth round of a Grand Slam for the first time where he will face Canadian fifth seed Milos Raonic.
Goffin slips, retires from third round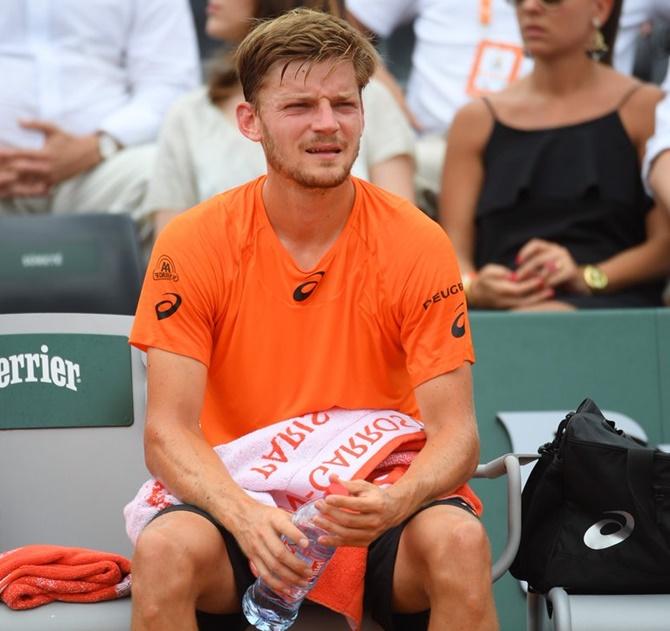 IMAGE: David Goffin has retired due to injury. Photograph: Twitter
Belgian 10th seed David Goffin was forced to retire from his third-round encounter against Argentine Horacio Zeballos at the French Open after slipping and hurting his ankle.
The in-form Goffin, ranked 12th in the world, was leading 5-4 in the first set when Zeballos, who had earned his first break point, forced him to the edge of the court near a cover with a deep groundstroke.
Goffin, a semi-finalist in Monte Carlo this year, managed to get to the ball, lifting a lob over the Argentine but slipped in the process, hurting his ankle.
Medical staff rushed on and helped him off the court for a medical check. The umpire announced minutes later that the 26-year-old was forced to retire.
Zeballos, 32, who is through to the fourth round of the French Open for the first time, will now play sixth seed Dominic Thiem of Austria.
Brave Johnson bows out to powerhouse Thiem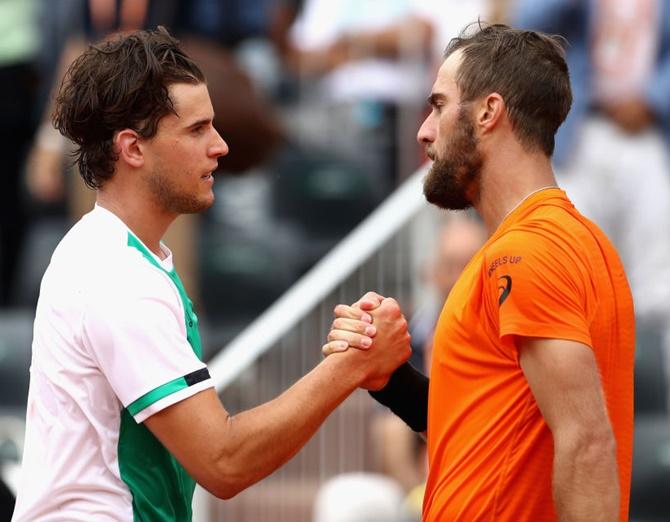 IMAGE: Steve Johnson of the United States congratulates Dominic Thiem of Austria on victory. Photograph: Julian Finney/Getty Images
American Steve Johnson played his heart out in a losing cause under electric Roland Garros skies, trading power and precision with Austrian hotshot Dominic Thiem in three sets of tension-filled tennis.
Like the rain clouds gathering overhead, punctuated by rumbles of thunder and a single lightning strike, the match built up gradually.
With the weather a dramatic backdrop to the action as, after a slow start, Johnson came within a whisker of levelling at one set all, he might have been tempted to think back to Wednesday's second round win over Croatian Borna Coric.
The 25th seed revealed then that he had drawn inspiration from the memory of his father, who died aged 58 three weeks ago.
Sixth seed Thiem, a semi-finalist last year, said even turning up on court had taken courage for the American.
"He's a very, very nice guy. It was, of course, very emotional for him. But.... it also shows that there are way more important things than tennis," the Austrian told a news conference after the match.
"I think it was unbelievably tough for him to even play here."
The match reached a crescendo as the players each held and squandered two break points in successive games towards the end of the second set.
Had Johnson - bidding to reach the last 16 in Paris for the first time - broken then, he would have taken the set.
But that was the last opportunity afforded him by an increasingly dominant Thiem, who ran out a 6-1 7-6(4) 6-3 winner.
Thiem, one of the dark horses to win the tournament after beating favourite Rafa Nadal in straight sets in Rome earlier this month, stepped up his heavy groundstroke game in the third set.
Mixing power with precision throughout, the Austrian closed out the match in a shade over two hours with an unreturned cross-court backhand volley.