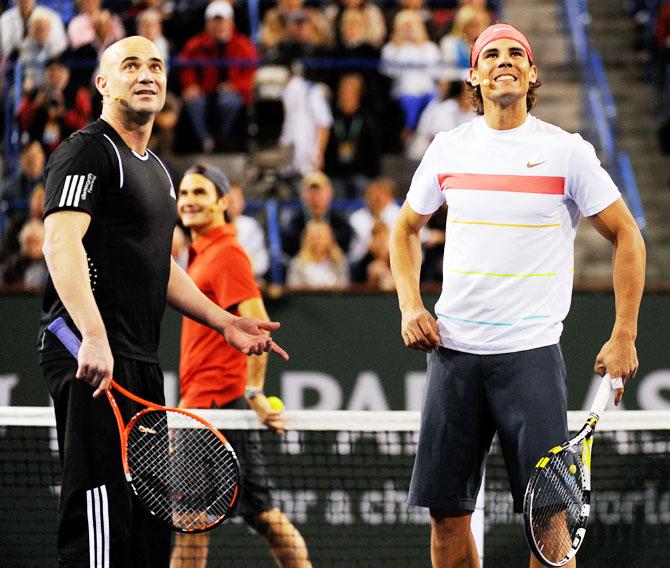 IMAGE: Tennis stars Andre Agassi and Rafael Nadal. Photograph: Kevork Djansezian/Getty Images
Former Grand Slam champion Andre Agassi has penned a heartfelt letter to Rafael Nadal where he has expressed his support to the Spaniard who is seeking to clinch his 10th French Open title.
Agassi bagged a total of eight Grand Slam titles, including one French Open crown in contrast to Nadal's 14 titles, with nine of those achieved at Roland Garros.
Agassi, in his letter, said he was amazed to see Nadal's remarkable record at French Open, pointing out that it took him most of his career to achieve the title for a single time, Sport24 reported.
"It took me most of my career to accomplish the herculean task of winning the French Open one time .Watching you attempt to win it for the tenth time is not only remarkable ... it is inspiring. You make me believe in life that anything is achievable and nothing is impossible. Go get 'em," he wrote in a letter.
Earlier, Nadal kicked off his French Open campaign on a winning note by brushing aside Australia's Sam Groth 6-1, 6-1, 6-1 in the opening round contest that lasted for one hour and 20 minutes.
The 14-time Grand Slam champion will next face Argentina's Facundo Bagnis in the second round on Thursday.