World number two Novak Djokovic pulled out of the pre-Wimbledon Queen's Club tournament in the wake of his epic 7-6, 6-3, 3-6, 7-6 defeat by Roger Federer in the French Open semi-finals on Friday.
"I've pulled out from Queen's and I will take a rest before Wimbledon," Serbian Djokovic told a news conference ahead of the London grasscourt tournament, which starts on Monday.
Later Queen's Club tournament organisers issued a statement saying Djokovic had withdrawn because of patellar tendinitis, which affects the tendon connecting the kneecap to the shinbone.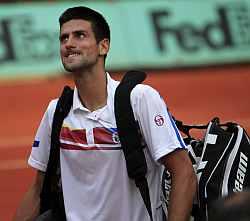 Earlier on Friday, Briton Andy Murray, who lost to Rafa Nadal in the other Roland Garros semi-final, said he was not sure whether he would take part in the London grasscourt tournament, which starts on Monday.
An ankle injury suffered in Paris means he wants to see how he reacts to coming off anti-inflammatory pills. "I'm not 100 per cent sure if I'll play there," said the 24-year-old.
World number one Nadal, who faces Federer in the Sunday's French Open final, four-time Queen's winner Andy Roddick and 2009 US Open champion Juan Martin Del Potro are all due to take part in the Wimbledon warm-up tournament.
However, Djokovic has been joined on the sidelines by Mardy Fish (abdominal injury), and Richard Gasquet (leg injury).