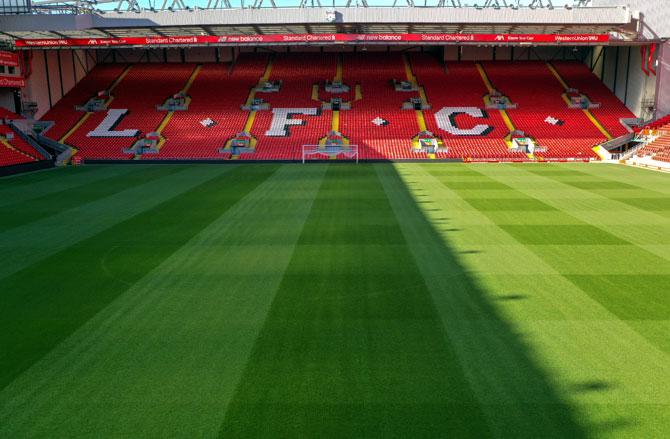 Four players tested positive for coronavirus in the latest batch of tests conducted by the English Premier League and announced on Wednesday.
"The Premier League can today confirm that on Monday 25 May and Tuesday 26 May, 1008 players and club staff were tested for COVID-19. Of these, four have tested positive from three clubs," the league said in a statement.
"Players or Club staff who have tested positive will now self-isolate for a period of seven days."
Since players returned to limited group training on Tuesday, 12 positive tests for the virus have been confirmed at England's top-flight clubs.
No matches have been played in the Premier League since March, but the government has given the go-ahead for elite sport to resume from June 1.
Four Lokomotiv Moscow players test positive for coronavirus

Russian Premier League club Lokomotiv Moscow said on Thursday that four of its players had tested positive for the novel coronavirus.

The four - Dmitry Barinov, Anton Kochenkov, Timur Suleimanov and Roman Tugarev - are not experiencing any symptoms of the virus, which causes the COVID-19 acute respiratory illness, and are at home in self-isolation, the club said.

The players' diagnosis comes after Jefferson Farfan, a Lokomotiv Moscow forward, tested positive for the virus earlier this month.

The rest of the club on Thursday travelled to a training base outside Moscow to prepare for the resumption of Russian Premier League matches on June 21, the club said.

Lokomotiv are currently second in Russia's top flight league.

Russia as of Thursday had recorded 379,051 coronavirus cases and 4,142 deaths.
Villa manager Smith's father dies from COVID-19
Premier League club Aston Villa have said manager Dean Smith's father Ron has died from COVID-19.
"The Aston Villa Family are saddened to announce that Ron Smith ... has passed away at the age of 79," the club said in a statement.
"Ron, who had recently been living in a care home after being diagnosed with dementia six years ago, contracted coronavirus four weeks ago and after a short spell in hospital passed away with his family at his side.
"A lifelong supporter, Ron was a steward at Villa Park for many years and passed on his love of the club down to his children."
The United Kingdom has recorded more than 267,000 confirmed cases of COVID-19, with 37,460 people losing their lives.
Last month, Manchester City manager Pep Guardiola lost his mother after she was diagnosed with the novel coronavirus. She died in Barcelona aged 82.