Triple Formula One world champion Jackie Stewart advised Lewis Hamilton on Saturday to stay at McLaren and "the devil you know" rather than risk a move to Mercedes for next season.
The retired champion, who became a successful team owner and businessman after hanging up his helmet in 1973, told reporters at the Italian Grand Prix that Hamilton maybe did not realise how lucky he was.
"I personally would stay with McLaren. They have the resources, the money, the long-term commitment, huge experience," he said.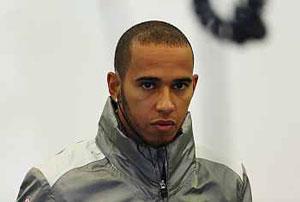 "He wouldn't be here today without them, and there is a degree of loyalty you should always have."
Hamilton has been backed by McLaren since his early teens and the 2008 champion has never driven for any other team since he made his F1 debut in 2007.
He qualified on pole on Saturday, with team mate Jenson Button alongside him on the front row, for a grand prix dominated by talk of his future and speculation that he could be tempted to Mercedes as a replacement for Michael Schumacher.
The Briton, winner of 19 races, has said he does not know where he will be driving next year, although his management are in advanced talks with McLaren.
Stewart, who founded his own race-winning team and then sold it to Ford - who then pulled out of F1 and passed the Milton Keynes outfit on for Red Bull to turn it into title-winners - warned that car manufacturers like Mercedes might be less committed to the sport than McLaren.
"You go to Mercedes, who are a wonderful company, it would take a five-minute decision from the board to stop motor sport because of the economy," he declared.
"So if I were thinking long term, then I would think to stay with McLaren."
The Scot, who drove for BRM, Matra and Tyrell in a 99 race career, said it could take Hamilton two years to settle down completely at a new team.
"He might immediately dial in and get it done, but sometimes the devil you know is better than the devil you don't know," added Stewart.
Hamilton would not need reminding, however, that Stewart also advised Button against moving from Brawn to McLaren at the end of his championship-winning 2009 season because the team was built around Hamilton and it would be like entering the 'Lions' Den'.
Button won two races in 2010, finished the 2011 season ahead of Hamilton and is now well entrenched.
Mercedes have won one race, in China this year, since buying Brawn.
"He's a very lucky boy, he's made huge amounts of money, which is only tiny part of it," Stewart said of Hamilton.
"After making a certain amount of money you're not going to make a lot less, whether you go to one team or the other...it's a very big decision in his career, and I think he'll stay with McLaren."
Photograph: Mark Thompson/Getty Images