Formula One should revert to last year's tyres for safety reasons to prevent any repeat of Sunday's dangerous British Grand Prix blowouts, according to Red Bull principal Christian Horner.
Speaking to reporters after a race in which four drivers suffered high-speed rear left tyre failures, with the rubber exploding in a burst of debris, the championship-leading boss said urgent action was needed.
"This is a Pirelli issue, they need to find a solution, they need to address it. Whether they go back to last year's tyre or a different tyre they need a solution," said Horner, who has called all season for the quick-wearing tyres to be harder and longer-lasting.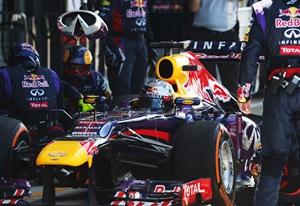 "The most logical thing would be to go back to the tyres that worked well for them previously. The tyres they had last year did not have these failures," he added.
The next race is at the Nuerburgring in Germany next weekend, before Hungary at the end of the month.
Red Bull's chief technical officer Adrian Newey said the situation at Silverstone was the result of 'short-sighted' behaviour by some rivals who had blocked Pirelli's plans to change the tyres for Canada earlier in the month.
"It's a sad state of affairs, but such is the nature of Formula One really," he said.
"It's been fairly clear that there has been a number of worrying tyre failures through the year, Pirelli came out with a solution to that - or appear to have come up with a solution with a different construction that was being offered initially for Montreal.
"Two or three teams vetoed that because they were worried that it would suit some other teams more than it would suit them and as a result of that short-sightedness we end up with Formula One putting on the worrying performance that it did today and concerns over driver safety.".
Tyres exploded in Sunday's race, with cars travelling at speeds in excess of 200kph, and heavy strips of rubber landed in the path of following cars.
Ferrari's championship contender Fernando Alonso had a near miss when the rear left tyre on Sergio Perez's McLaren exploded right in front of him.
"From what I understand of it, had we gone to the different construction then we wouldn't have had the sort of catastrophic failures that we have had today," said Newey.
"Safety wise, there are potentially two issues. There's the car that has the failure having an accident due to that failure, but also suddenly you've got three kg or so of tread flying around.
"If that hits the following car (driver) on the helmet, it doesn't bear thinking about."
Horner suggested that a young driver test scheduled for Silverstone between Germany and Hungary could be turned into a test for current drivers to guarantee meaningful feedback.
That would have the advantage of allowing teams to test tyres on the same circuit where they had suffered the most serious failures.
Former champion Niki Lauda suggested drivers should take a united stance.
"The drivers should write a letter, because they are the most affected, and (commercial supremo) Bernie (Ecclestone) needs to get involved to tell them (Pirelli) that by Budapest we need another tyre," said the Austrian, who is also the Mercedes non-executive chairman.
"If the worst comes to the worst, they should bring last year's tyre if they technically cannot fix the problem. And this has to happen. For Germany you can't do anything."
Image: Sebastian Vettel of Germany and Infiniti Red Bull Racing drives in for a pitstop
Photograph: Mark Thompson/Getty Images