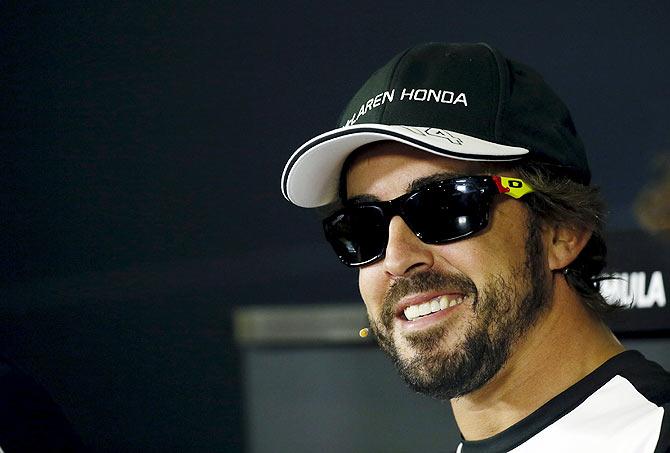 McLaren's Formula One driver Fernando Alonso of Spain attends a news conference ahead of the Spanish Grand Prix at the Circuit de Barcelona-Catalunya racetrack in Montmelo, near Barcelona, on Thursday. Photograph: Albert Gea/Reuters
Fernando Alonso can see a brighter future for McLaren, despite turning up at his home Spanish Grand Prix on Thursday with a stye in his eye.
The double world champion kept his heavy sunglasses on throughout a news conference at the Circuit de Catalunya and told reporters he had to protect his vision.
"I have a stye," he explained.
"A little inflammation of my eye. They recommend not to be too much in the artificial light. I try to protect a little bit the eye today and tomorrow to be ready for Saturday and Sunday."
The last time Alonso appeared at the circuit outside Barcelona was in February, when he crashed heavily in the second of three pre-season tests.
The medical advice that followed that incident was to rest and recover from concussion, meaning he missed the Australian season-opener in Melbourne.
Alonso said he had no lingering concerns about that accident or getting back out on track and returned with full confidence and motivation.
He also planned a thank you gesture for the hospital staff who had looked after him.
"They were so kind to me and I plan to have dinner with them, probably on Sunday," he said.
"I stay here on Monday for one event with a sponsor, so Sunday night after all the stress and the race; more in a quiet place."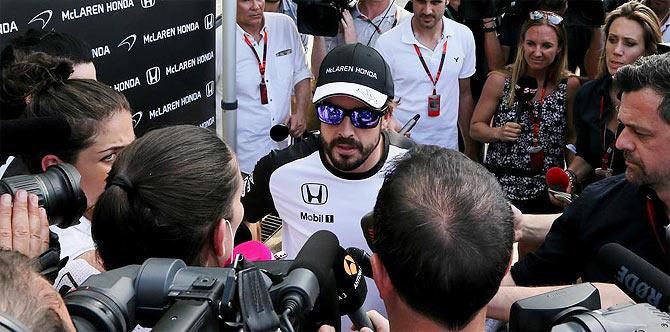 Fernando Alonso gives interviews to the media. Photograph: Fernando Alonso/Twitter
McLaren have had a stressful start to the season and their new engine partnership with Honda, qualifying near the rear of the field and failing to score in the first four races.
At the last one, in Bahrain, Alonso's British teammate Jenson Button did not even get to start although the Spaniard finished 11th.
"I think in Bahrain we had a nice step and that brought us closer to the Q3 (final stage of qualifying) and also to the points and we need another small step to reach that goal," said Alonso.
"We want to be on the podium and win races but one step at a time and hopefully here in Barcelona we can see this step."
Alonso, twice a winner of his home race with Renault and Ferrari, said it was just a question of time and putting everything together before McLaren were competitive again.
"I really think that we have the potential to fight with the top teams in future," he said.