Force India's co-owner Vijay Mallya has rubbished speculation that he is planning to sell his stake in the Formula One team to Sahara India.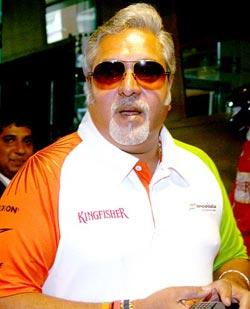 Mallya, who is also the chairman of UB Group, denied a media report which stated that the liquor baron was planning to exit from Formula One team he co-owns with Dutch businessman Michiel Mol.
"No question of my getting out of Force India. I have more reason to improve performance when India comes on the Formula One map," Mallya said referring to the October 30 Indian Grand Prix to be held in Greater Noida.
With German Adrian Sutil and Italian Paul di Resta in the driver's seat, Force India is steadily moving up the Formula One ladder. This season the team has scored 48 points and is sixth on Championship table.
The team was formed in October 2007 when a consortium led by Mallya and Mol bought the Spyker F1 team for 88 million Euros.
"I take great pride in having been able to put an Indian team on the Formula One World Championship grid and have worked very hard to greatly improve the performance of the team," said Mallya.
"As Team Principal, I will continue to run the team and I have no plans whatsoever to exit," he added.