Liberty Global and Discovery Communications have made a joint approach to CVC Capital about buying a 49 percent stake in Formula One, the Telegraph reported, without citing sources.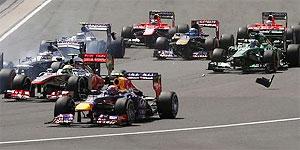 The talks are at an early stage but could value the auto-racing company at more than 6.5 billion pounds ($10.62 billion), the paper said on its website.
It added that U.S. cable group Liberty Global and Discovery Communications, the media company behind cable channels TLC and Animal Planet, had requested access to private information about CVC's finances.
Private equity firm CVC currently owns 35 percent of Formula One, including all the voting rights. The Telegraph said that CVC declined to disclose details of where the remaining 14 percent would come from.
Representatives from CVC, Liberty and Discovery were not immediately available for comment.
Sources told Reuters in 2011 that News Corp, backed by media tycoon Rupert Murdoch, planned to make a bid to take control of Formula One.
Formula One boss Bernie Ecclestone hinted at the time that he would step down if Murdoch's bid was successful.
Photograph: Chris Helgren/Reuters