Kimi Raikkonen's Formula One comeback picked up speed on Monday when the Finn got back behind the wheel of a two-year-old Renault grand prix car at the Valencia circuit in eastern Spain.
Click here for Rediff Realtime News!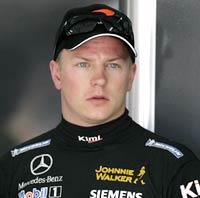 The 'Iceman', 2007 world champion with Ferrari and winner of 18 races in his time with the Italian team and McLaren, is returning to Formula One this season after two years in the world rally championship.
Lotus, formerly Renault, said in a statement that the 32-year-old aimed to drive as many laps as possible in the two days in Valencia to get acquainted with his new team and reacclimatise himself with a Formula One car.
They issued a picture of Raikkonen, who last drove a Formula One car in 2009, on his first lap in the R30 - painted in Lotus's black-and-gold livery - at the Ricardo Tormo track.
The new Lotus will be launched on February 5 before the first official test of the season at the Jerez track in southern Spain starts on February 7.
Teams are not allowed to test up-to-date cars outside of official sessions which meant Raikkonen could drive only an older machine using demonstration tyres. The season starts in Australia on March 18.