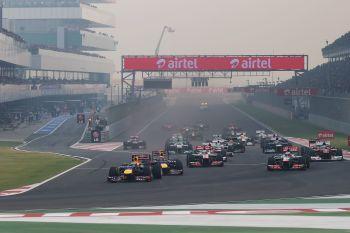 Sunday's Indian Grand Prix will go ahead as scheduled after the Supreme Court deferred hearing in a case seeking its cancellation over tax issues to next week.
"The case will now be heard next week," a court official told Reuters on Friday.
The Supreme Court decided to hear the case after campaigner Amit Kumar accused race promoters Jaypee Sports International (JPSI) of not paying entertainment taxes in full for the 2012 event and demanded the cancellation of Sunday's race.
Kumar had filed a Public Interest Litigation (PIL) in 2011 arguing Formula One was not a sport but entertainment and should not be exempted from entertainment taxes.
JPSI spokesman Askari Zaidi has dismissed Kumar's claims, saying the promoters had deposited the money they were asked to pay.
The Indian Grand Prix has been dropped from next year's calendar but the promoters are optimistic of a return in 2015.
Photograph: Paul Gilham/Getty Images