Lewis Hamilton put his McLaren on pole for the Malaysian Grand Prix on Saturday, as the team locked up the front row of the starting grid for the second race in a row.
The Briton clocked one minute, 36.219 seconds in the third round of qualifying to follow up his pole position in Australia last week and will line up alongside Melbourne winner Jenson Button, who finished 0.149 seconds behind.
"It's been a good weekend so far. It's been a tough day for all of us with the temperature and weather changes," Hamilton told reporters.
"We put a lot of pressure on ourselves and it's very intense and probably the most exciting part of the weekend. But speaking for myself, I really enjoy it," he added.
Michael Schumacher was third fastest in his Mercedes with Red Bull's Mark Webber completing the second row of the grid in fourth.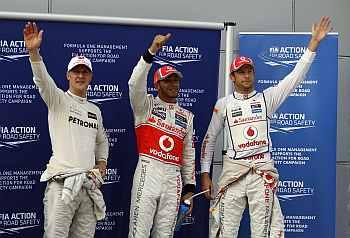 World champion Sebastian Vettel finished sixth but gets promoted one place above Kimi Raikkonen's Lotus, who finished ahead of the German but loses five places on the grid for changing his gearbox this weekend.
Displaying the lightning pace his car had shown through Friday practice, Hamilton blazed out his fastest lap early in the final round of qualifying and one-by-one his challengers tried but failed to beat the 2008 world champion's time.
"I think the first lap was quite good," he added.
"On the first corner, I had a small oversteer moment but it didn't cost me any time. The rest of the lap seemed to come together quite well. I pushed a little bit too much in the last corner, but was able to minimise the amount that I lost."
The Briton last enjoyed two poles in a row in 2009 - at Italy and Singapore - and it will mark the first time since 2007 that McLaren have taken the top two spots in qualifying in consecutive races.
"Qualifying has been pretty good to me in the last two races and I can't complain too much. It's good for us as a team to be on the front row again," Button said.
"Lewis did a great lap at the start of Q3 and we edged closer but we couldn't quite get there."
With Raikkonen's demotion to 10th, team mate Romain Grosjean backed up his third-place qualification in Australia with sixth, but Ferrari's woes continued for the second race in succession.
Double world champion Fernando Alonso did well to make the final round of qualifying to start in eighth behind Nico Rosberg in the other Mercedes, but Felipe Massa failed to make it out of Q2 and will start in 12th.
Schumacher was delighted with his performance and the seven-times world champion felt he got the most out of his car.
"We are third here and if you look who is behind us and how close everything is going, we can be more than happy with what we achieved and look forward to tomorrow," the German said.
Photograph: (From left) Mercedes' Michaerl Schumacher, McLaren's Lewis Hamilton and Jenson Button wave after the qualifying session of the Malaysian F1 Grand Prix at Sepang International Circuit (Tim Chong/Reuters)