'We passed that close to the podium, Jenson and me, and we said we will not be that close any more this year and we took a picture at least'
'Jokes apart, I think it has been a very frustrating weekend with two engine failures'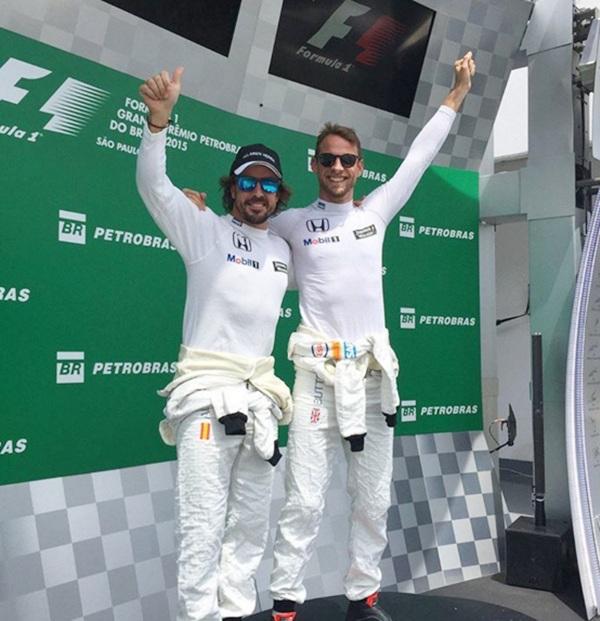 IMAGE: McLaren drivers Fernando Alonso, left, and Jenson Button. Photograph: Hitesh Instagram
McLaren drivers Fernando Alonso and Jenson Button stepped onto the Formula One podium for the first time this season on Saturday -- but only in jest after yet another qualifying nightmare in Brazil.
Neither of the two former world champions made it through the opening phase at Interlagos, with Spaniard Alonso told by the team to pull over before he had even got a timed lap under his belt.
"No power," he said, before parking on the grass.
Alonso had spent much of Friday afternoon watching from the barriers after a similar failure in practice and on Saturday he made himself more comfortable.
Lying back in a foldable picnic chair, feet resting on his helmet, he winked theatrically at a television camera and soaked up some afternoon sun.
"I need to be a little bit more prepared next time in Abu Dhabi (the final race of the season in two weeks' time), take the telephone and the sun tanning (lotion) or something," Alonso told the BBC. "It was quite hot out there."
When the session was over, the two drivers -- who won their titles in Brazil with Renault and Brawn respectively -- drew a roar from the crowd when they sneaked onto the podium for old times' sake.
"We passed that close to the podium, Jenson and me, and we said we will not be that close any more this year and we took a picture at least," said Alonso.
"Jokes apart, I think it has been a very frustrating weekend with two engine failures. I didn't take part in the race in Mexico, I didn't take part in qualifying here...
"As long as we learn from all these problems that we are having this year and not repeat them any more next year, it's good but definitely it's tough right now."
Alonso, one of the quickest and most highly paid drivers in Formula One, has scored just 11 points in 17 races as McLaren's first year of a new partnership with Honda has delivered the team's worst ever season.
Button has scored only five points more than the Spaniard, both men hampered by regular engine failures and a lack of performance from a power unit that Honda can do little to improve until the season is over.
From 18 qualifying sessions, both McLarens have failed to make it through to the second phase in eight of them.