Triple Formula One world champion Sebastian Vettel would be Ferrari's first choice should they ever need to replace Fernando Alonso, president Luca di Montezemolo said.
The Red Bull driver has been repeatedly linked to Ferrari this season, with talk of a pre-contract for 2014, although the 25-year-old German and his team have tried to put the speculation to rest.
- Vettel becomes F1's youngest triple champion
Speaking at Ferrari's Maranello factory, Montezemolo left no doubt about the Italian team's admiration for Vettel.
"If for whatever reason Fernando Alonso were to leave one day, maybe because he wants to retire in Hawaii with his girlfriend, then I want Vettel," the Gazzetta dello Sport quoted him as telling German media.
"Sebastian is a potential Ferrari driver for the future."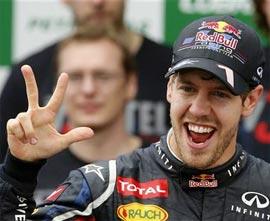 Whether Vettel and Alonso ever pair up at Ferrari remains to be seen, however, with Montezemolo previously saying he did not want to have "two roosters in the same hen house" but rather two drivers "who race for Ferrari and not for themselves."
Montezemolo said Alonso, Vettel and Lewis Hamilton were clearly a cut above the rest in Formula One and he preferred the Red Bull driver to the Briton "because he's younger and hasn't been around so many teams".
Vettel was also strongly recommended by seven times world champion Michael Schumacher, who won five titles in a row with Ferrari.
Hamilton, the 2008 world champion, will be racing for Mercedes next year after six years with McLaren. He will be 28 in January.
Double world champion Alonso, 31, has a contract with Ferrari until at least the end of 2016.
"I'm immensely pleased with Alonso. He's more than a driver, he's a key figure. He fits into the way the team work perfectly," said Montezemolo of the Spaniard who finished runner-up to Vettel this year.