With just over a week to go for the inaugural F1 Grand Prix at India's Buddh International Circuit, Narain Karthikeyan, on Thursday, said he wants to finish the race rather than making claims about ending up with some points for his side.
"We have a small team, we have our limitations. Finishing the race with some points will be a tall order, my emphasis will be to just finish the race," said the Hispania Racing Team (HRT) driver.
The fastest Indian driver said that the new track at the BIC was a unique one and the driver needs to be technically sound to make a mark at the circuit.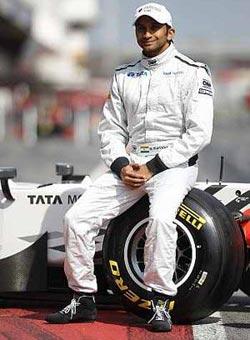 "The Buddh International Circuit is very unique. There are a lot of elevation changes and the track provides opportunity for the drivers for a smooth takeover. The driver needs to be a technically thinking one to make his presence felt during the race," said Karthikeyan.
The driver though reiterated that it wouldn't be an easy outing for his team.
Talking to the reporters on the sidelines of unveiling of the Hispania's F1 car, the driver hailed the newly built facility saying that it was one of the best in the world.
"It is a fantastic facility. I have raced on all the major F1 tracks across the globe and I rate this track as one of the best in the world. It is definitely among the top five tracks of the world," the 34-year-old driver said.
Karthikeyan also mentioned that it will be a whole new experience for the Indian audience and pinned hope that the marquee event will open up new avenues for the upcoming drivers in the country.
"Watching an F1 race is really a great experience. The noise, the fast moving cars, the whole atmosphere is exciting. They (audience) will be fans forever. It is also good for the drivers like me and some of the upcoming ones," he insisted.