Sahara Force India's Paul di Resta has been handed a reprimand by the stewards for colliding with Lotus driver Romain Grosjeans on the first lap of the Italian Grand Prix, in Monza on Sunday.
- Force India put up poor show at Italian GP as Di Resta retires, Sutil 16th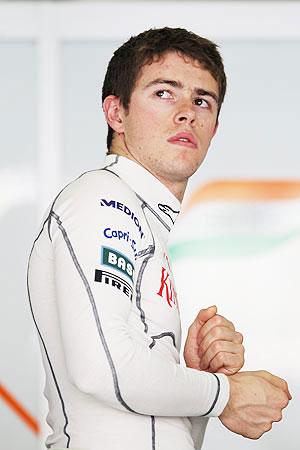 The Scot's race ended with the crash but Grosjean survived to finish eighth. Di Resta's teammate Adrian Sutil finished 16th after retiring his car in the last lap due to brake issues.
Since Di Resta accepted responsibility for the incident, the stewards recognised the fact that he had tried to take evasive action.
"The driver made an attempt to avoid the collision (when he saw the cars in front braking earlier) by trying to drive between cars #8 and #15, but in doing so collided with car #8," said the official steward's report.
Di Resta said it was a weekend to forget.
"I just got caught out going into the second chicane because the cars ahead of me got backed up -- I guess they were reacting to the tussle going on ahead of them. I locked both fronts trying to stop the car and ended up hitting Grosjean. Unfortunately it was too late to take avoiding action. Now we need to look forward to Singapore and put this one behind us," he said.
Sutil also he gave his all to get the best result of the last race on the European leg.
"I tried my best and I don't think we could have delivered any more because I was on the limit throughout the race. The pit stop was good, but the team had to hold me on the exit because Maldonado was coming in, which meant I lost a position to Gutierrez.
"I was able to pass him again on the track, but there were some quick cars [Kimi and Lewis] with fresher tyres and there was no way to hold them off. Points were not too far away, but overall we didn't have the pace this weekend," he said.
Team Principal Vijay Mallya acknowledged that team did not have the speed to counter faster cars.
"We leave Monza empty-handed after a difficult weekend. We've struggled for pace and had our share of misfortune. Adrian drove a strong race with a great overtaking move on Gutierrez, but was missing the speed to fight for points.
"In the closing laps we were forced to retire the car with concerns over the brakes. It's clear we need to recapture the form we showed before the summer break if we are to continue fighting for fifth in the constructors' championship," he said.