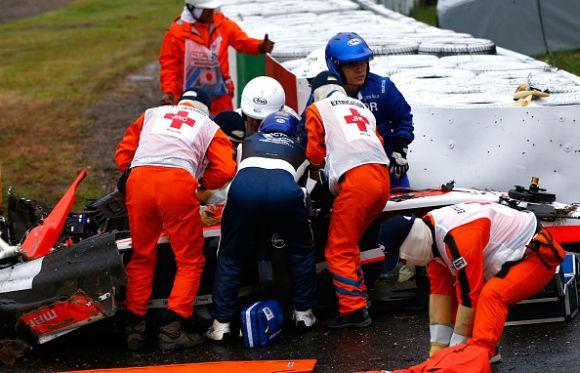 Jules Bianchi of France and Marussia receives urgent medical treatment after crashing during the Japanese Formula One Grand Prix at Suzuka Circuit. Photograph: Getty Images
French driver Jules Bianchi was taken to hospital after being seriously injured in a crash that brought a halt to a wet Japanese Formula One Grand Prix on Sunday.
"The driver is not conscious and has been sent to the hospital by the ambulance because the helicopter cannot go in these conditions," said a spokesman for the governing International Automobile Federation (FIA).
No further details were available and there was no immediate comment from Bianchi's Marussia team.
The accident occurred at the same point of the track, the Dunlop Curve, where Adrian Sutil had aquaplaned off a lap earlier and involved a rescue tractor that was recovering the stricken Sauber.
Sutil, who was not hurt in his accident, said Bianchi's accident was very similar to his.
"It was more or less the same crash, just the outcome was a bit different," he told Sky television.
"The car (tractor) came out to rescue my car and then it all happened."
No podium celebrations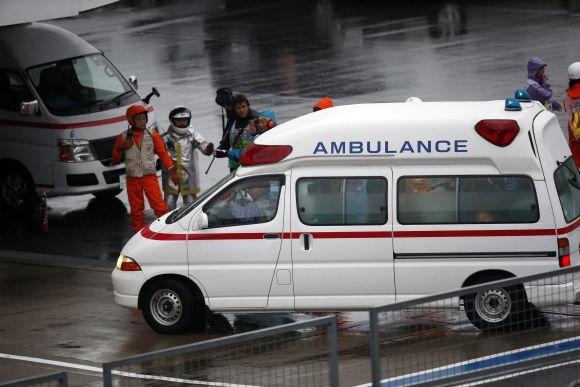 Marshalls clear the way for an ambulance after the race was stopped following a crash by Marussia Formula One driver Jules Bianchi of France at the Japanese F1 Grand Prix. Photograph: Yuya Shino/Reuters
The crash brought out the safety and medical cars and led to the race being red flagged and not re-started with the result declared after 44 of the 53 scheduled laps.
There were no podium celebrations and the champagne was left unsprayed, with the top three drivers merely clinking the bottles and taking a swig.
"It's obviously a real anti-climax to hear that one of our fellow colleagues is seriously injured so that's really the main worry," Mercedes' race winner Lewis Hamilton told the BBC.
"You could see some commotion and the car was really badly damaged on the right. We just hope he's OK."
"I'm not thinking about the race, I'm thinking about my colleague," said the Briton's second placed team mate Nico Rosberg.
"I've been given some information and it seems very, very serious. I'm hoping for the best."