With empty stands greeting the Indian F1 Grand Prix during the first two practice session, Raja Sen begs the organisers to open the gates and bring in the junta. 'At least, Formula One will feel compelled to bring its mega budget circus back to India at the soonest'.
Call the coroner. The Indian Grand Prix might be on Sunday afternoon, but the race is lifeless before it's even started.
There is no buzz, most people I've encountered in Delhi this year aren't remotely interested in driving down to the Greater Noida circuit (a far cry from the first race in 2011 in which nearly everyone was either going or lying about going), and the stands on Friday, as I mentioned in my First Practice and Second Practice reports, were depressingly empty. Nobody in India seems to care.
Which is a shame.
On Sunday, odds are Sebastian Vettel will triumph. He will almost certainly be crowned Formula One World Champion for the fourth successive year, a historic motorsport triumph that sees him overhaul Ayrton Senna, rub shoulders with Alain Prost, and lay down the gauntlet to mount, preposterously enough, a realistic assault on Michael Schumacher's insane numbers.
It is a moment we all need to gasp at, because this 26-year-old is shining brighter and getting better with each race, with each season. The world is not enough.
But instead of marvelling, on Monday morning the Indian newspapers will inevitably be full of post-mortems -- about the poorly-attended Buddh International Circuit, how it won't be hosting a race in 2014, and where things all went disastrously wrong for the F1 story in India.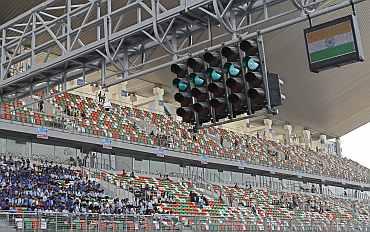 And we have lots of avenues to aim the blame: the Uttar Pradesh government, for their asinine decision to not classify Formula One as a sport and thus make it anything but lucrative for the FIA and the teams to host a race here; the Indian government, for not subsidising the F1 race unlike other countries vying furiously for the prestige of having part of the Formula One championship in their countries; the Jaypee Group for not pricing the tickets encouragingly enough to beckon in curious new crowds; and the advertising agencies in charge of promoting the Grand Prix, who have done a blandly lacklustre job especially considering the glamour and energy associated with the event they're selling.
But before we get all pointing-finger-happy (just like Vettel will on Sunday), here is a suggestion from me, a diehard Formula One fan, the longest-writing F1 journalist in the country, to Sameer Gaur and the Jaypee Group, a suggestion to save race and face: open the floodgates.
There isn't that much we in India can offer the World Championship. We aren't giving them enough money. We aren't making it easy for tourists to get here. We're proving to be, rather unsurprisingly, a logistical nightmare. We don't have a massively evolved audience who know the ins and outs of the sport. We aren't buying enough Ferraris.
What we do have, however, are numbers. The stands are empty, Mr Gaur. Nobody's watching. If this is the last race, let's make it so spectacular that Formula One will feel compelled to bring its mega budget circus back to India at the soonest.
Let's give them what nobody can; let's open the gates and bring in the junta. Make it, I beseech you, make it a free-for-all.
I know what you're thinking: that it's too late. But come on, just print a full page ad in the Sunday papers asking the country to show up, and show up they will, just like they do when a Renault is driven gloriously noisily in front of India Gate or a Red Bull storms past the Bandra-Worli Sealink.
Give it to us for the right price and we'll show up, and the right price for F1 in this country right now might well be zilch.
It won't aid your wallets come raceday, I agree, but it will make for a truly grand experience.
Just think about it, O bean-counters, fantasise about the hitherto unfamiliar visual of all the stands packed to the gills. What a show it can be.
The other big objection to this plan? The fact that there are a handful of people who have bought (or, it being Delhi, managed to wangle) tickets and passes; how fair is it for these folk to sit alongside a bevy of college kids who've walked in simply because the gates are open?
The answer, surprisingly enough, is very fair. Because the whole point of watching any sport live is being in the thick of a crowd -- of moving, reacting, cheering, booing as one. I wager anybody who has spent 2000 bucks on a ticket won't want to sit flanked by empty seats.
Let them in. Let the world hear us roar. We could even drown out those magnificent engines. Make Sebastian's coronation an unforgettable one. And put India on the Formula One map in a way befitting the world's largest democracy.
Image: Depressingly empty stands at the Buddh International Circuit
Photograph: Reuters