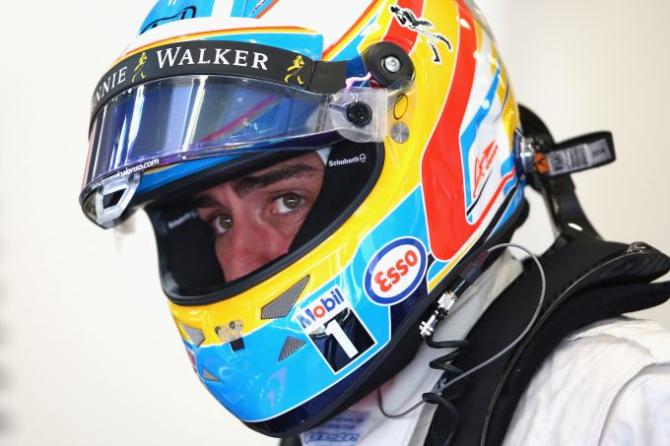 Fernando Alonso of McLaren Honda looks on in the garage during practice for the Formula One Grand Prix of Belgium at Circuit de Spa-Francorchamps. Photograph: Mark Thompson/Getty Images
McLaren drivers Fernando Alonso and Jenson Button will start last in Sunday's Belgian Formula One Grand Prix after being hit with heavy grid penalties for changes to their Honda power units.
Spaniard Alonso was given a drop of 30 grid positions, despite only 20 cars being entered for the race, while British team mate Button collected a marginally less draconian 25-place penalty.
The race stewards issued statements containing a long list of components that had been changed in breach of the regulations.
In Alonso's case, the double world champion picked up a 10-place penalty for using his seventh internal combustion engine of the season.
There were four five-place penalties for replacing other elements of the power unit.
Honda have been allowed a maximum of five power units per driver this season, one more than other teams because they are new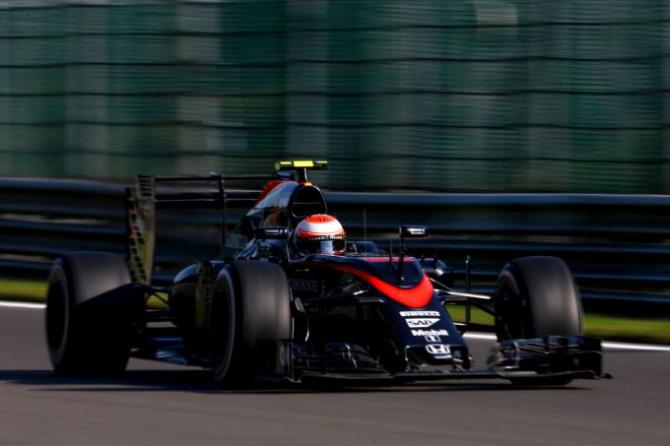 Jenson Button of McLaren Honda drives during practice for the Formula One Grand Prix of Belgium at Circuit de Spa-Francorchamps. Photograph: Charles Coates/Getty Images
Button collected a 10-place hit for using an eighth turbocharger and three five-place penalties for exceeding his allocation of other parts.
The penalties were expected by both McLaren drivers, who have endured a nightmare start to their team's new partnership with Honda, even if Alonso's punishment was greater than anything they had so far experienced.
In Austria in June, both drivers were given 25-place drops for engine and gearbox failures.
The governing FIA subsequently changed the rules on penalties to ensure that the maximum sanction a driver could face was to be sent to the back of the starting grid rather than incurring additional time penalties during the race.
Ahead of Sunday's race, Honda had promised McLaren an improved engine for Belgium but the team recognised that the upgrades would incur penalties. The stewards said the FIA had been notified of the changes on Tuesday.
"I am confident that our reliability problems are now behind us, which means we can turn our attention to increasing power," said Honda motorsport head Yasuhisa Arai earlier this month.
McLaren, the second most successful constructor in the sport's history after Ferrari, are currently ninth of the 10 teams.