Sahara Force India had a busy day on the track, checking out aero balance and tyre compounds on the third and final day of the mid-season testing in Mugello, Italy on Thursday.
Paul Di Resta and Nico Hulkenberg shared the VJM05 for the final day of running. While Di Resta completed 34 laps, Hulkenburg was on the track for 55 laps.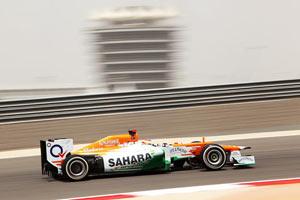 "It was a much better day and good to get a reasonable number of laps in the car in dry conditions. We had a busy programme focussing on aero data collection this morning, aero balance and general performance work. The data we have seems encouraging and I think that we are well prepared for Barcelona," Di Resta said.
"I think we have learned quite a lot today and it's a good way to end the test with a busy afternoon. There was a lot to get through, but the main priority was on understanding the car we have here and making sure we feel ready for Barcelona. There's a lot of data to go through before we get there and we also have to look at how the different tyre compounds behaved, but overall I'm pleased with the day's work," added Hulkenburg.
Team's Chief Engineer Jakob Andreasen said he was pleased with how things panned out for the outfit.
"After a tricky start to the week I'm pleased that we have ended the test with a full day of running. The focus this morning was on aero work and we fitted several devices to the car, which allowed us to collect the most important data to continue our assessment of the latest car developments," he said.
"Later in the day we moved towards set-up work, running new sets of the medium and hard tyres and extracting performance from the car.
"Before we leave Mugello I would like to thank everyone in the team for their efforts over the last few days to ensure we were able to complete the main items on our job list. It puts us in a good position as we head to Barcelona for next week's Spanish Grand Prix," he added.