Formula One has too many daydreamers who need to take off their rose-tinted glasses and tighten their belts by spending less, according to commercial supremo Bernie Ecclestone.
Speaking to the official Formula One website before the start of the new season in Australia next weekend, the 81-year-old Briton said it was time for a reality check.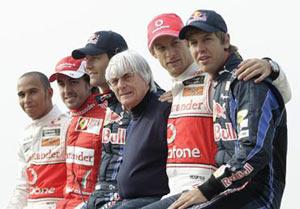 "There are still too many people in Formula One running around with rose-tinted glasses. They obviously like to see the world as they want it to be - wonderful, the sun is shining, isn't life delightful - and not how it is," he said.
"The downside of these glasses is that they blind you to reality."
Asked what advice he would give to such 'daydreamers', Ecclestone replied: "Change the colour of your glasses and tighten your belts. Stop spending more than you need to.
"The teams have to learn to be competitive without tonnes of money," he added. "They have to refocus again on the basics -- on racing, spending on the sport -- and not on baronial motorhomes and all kinds of entertainment."
Formula One teams have tried to rein in spending in recent years, through a Resource Restriction Agreement, from a time when some spent several hundred million dollars a year.
However the teams organisation FOTA, which has long sought a bigger share of Formula One's revenues, has become depleted by the departure of five of the 12 teams, including champions Red Bull and Ferrari.
Ecclestone, whose comments should be seen in the context of ongoing talks with teams for an extension of the confidential 'Concorde Agreement' governing the sport, said he would welcome a mandatory budget for all teams and felt it could happen.
On the championship ahead, Ecclestone tipped Red Bull's Sebastian Vettel to take a third successive title.
"Realistically, everything points to Sebastian. He's got it all: talent, passion, zeal, a clear head -- and he hates to lose. I could imagine him beating Michael (Schumacher)'s record (of seven titles)," he said.
"If I were to bet now, it would be Sebastian world champion, Mark Webber second and one of the McLarens third, probably Lewis Hamilton."
Ecclestone said Hamilton, the 2008 champion, was a "huge talent" who was probably "mentally a bit unstable" last year with everything going on in his private life.
The Briton had a crash-ridden year and was beaten overall by Jenson Button, the first time he had lost to a team mate over the course of a season.