Formula One will race in Bahrain as scheduled next week despite continuing anti-government protests, daily street clashes and security concerns for drivers and teams.
The International Automobile Federation said in a statement on Friday that it had received regular briefings from senior diplomatic officials and "independent experts" in the Gulf kingdom and was satisfied it was safe for the Grand Prix, cancelled last year due to civil unrest, to proceed.
The announcement reinforced the views of Formula One's commercial rights holder Bernie Ecclestone, who said at the Chinese Grand Prix on Thursday that the April 22 race is on unless local sporting authorities ask for it to be off.
Team principals, some of them known to be unhappy about competing in Bahrain against a backdrop of continuing violence and opposition from activists, will be meeting 81-year-old Ecclestone at the Shanghai circuit later.
Frenchman Jean Todt, the president of the Paris-based FIA, is not due to be at the track until Saturday with his position clearly set out.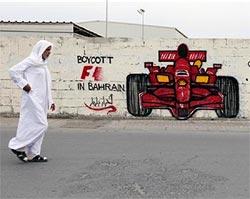 "Based on the current information the FIA has at this stage, it is satisfied that all the proper security measures are in place for the running of a Formula One World Championship event in Bahrain," the FIA statement said.
"Therefore, the FIA confirms that the 2012 F1 Grand Prix of Bahrain will go ahead as scheduled."
The race at Sakhir, which brought in more than 100,000 visitors and half a billion dollars in spending when last held in 2010, will be the fourth round of the 20-race season.
Last year's event was scrapped after an uprising in February by mostly Shi'ite pro-democracy demonstrators demanding a greater say in government and better access to jobs and housing.
Bahrain's monarchy quashed the revolt with the help of security forces from Saudi Arabia, and more then 30 people have been killed.
An explosion shook the capital Manama late on Thursday, damaging two cars, the Interior Ministry said. Al Arabiya television said the blast was caused by a gas container thrown among vehicles on a street.
Some opposition activists have dubbed the race a "tool of repression" and made repeated calls for it to be cancelled.
RATIONAL DECISIONS
The sport's governing body had been expected to wait and see how the situation unfolded after Friday prayers, a time when street protests are often triggered in Bahrain, before making any official decision.
The words 'current' and 'at this stage' in the statement could leave the door open to a U-turn should circumstances change.
Another factor weighing on a tense situation is the health of jailed rights activist Abdulhadi al-Khawaja, on hunger strike for two months, who was moved to a military hospital this week with conflicting reports about his condition.
The FIA statement said the governing body had to make "rational decisions" based on information provided by the Bahrain authorities and Ecclestone.
Todt, who was supported by Bahrain in his election campaign and visited the country last November on a "fact-finding mission" after the calendar was ratified, had made no secret of his desire for the race to go ahead if conditions allowed.
Ecclestone had also been supportive of a race that contributes some $40 million in hosting fees, said last month that Formula One would be in Bahrain "for as long as they want us."
The first country in the Middle East to host a grand prix, making its debut on the calendar in 2004, Bahrain has considerable influence in Formula One with a representative on the FIA's decision-making World Motor Sport Council.
The country's sovereign wealth fund Mumtalakat also owns 42 percent of McLaren Group, whose team are currently leading the Formula One championship.
Bahrain's Sunni Muslim rulers are eager to bring back the race as part of their efforts to show progress on reconciliation and reform with the majority Shi'ite community that led last year's protests.
Most Formula One drivers, who are sure to have extra security for the race, have shied away from voicing opinions on the political situation and expressed confidence in the sport and teams to make the right decisions.
Australian Mark Webber, who drives for champions Red Bull, suggested on Thursday that the race could be called off "in a flash" if need be.
"Ultimately it's a car race," he told reporters. "There are a hell of a lot of people in the world who don't have a clue there is a grand prix in Bahrain next weekend so let's not get too wrapped up in our own bubble about how important it is."
Photograph: Hamad I Mohammed