Red Bull's Mark Webber will start Sunday's German Formula One Grand Prix on pole position with McLaren's Lewis Hamilton alongside after a superb qualifying lap.
Champions Red Bull have now seized pole for the last 11 races, 10 of them this season, but their world champion Sebastian Vettel could only manage third spot on the grid at his home race.
Ferrari's Fernando Alonso, winner in Britain earlier this month, qualified fourth.
It was the first time in 15 races that runaway championship leader Vettel, who has an 80 point lead over Webber, was not on the front row.
Hamilton's performance was a shock given the Briton had dismissed his team's chances Friday after recent disappointing showings.
"I definitely under-estimated how good the car would be. It felt fantastic. It was one of the happiest and most comforting laps, I've ever had," the 2008 world champion told a news conference.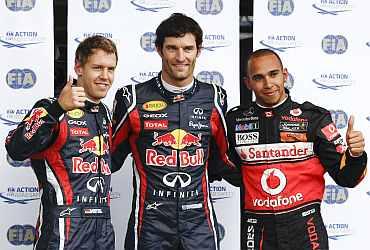 The McLarens had a number of upgrades and were boosted by the return to pre-Silverstone engine regulations for this race but few in the paddock thought they could split the Red Bulls.
A bristling Webber, who ignored team orders not to try to overtake Vettel in Britain before very reluctantly relenting, will line up first on the grid for the second straight race and third time this year.
"My form has been getting a little bit better over the last few races. The session went pretty well," Webber said.
"The boys did a great job on the car, some pretty late nights in the lead-up," he added.
Vettel, winner of six of nine races so far, put on a brave face before his adoring public.
"Overall there wasn't much missing to Lewis and Mark, the most important thing is I have a much better feeling for the car today," he said at the halfway point of the season.
Seven-times champion Michael Schumacher, enduring a miserable return from retirement, just squeezed into the final phase of qualifying with the Mercedes fans in the stands doing their best to roar him on.
He will start 10th Sunday, with rain expected.
India's Karun Chandhok, making his return to F1 at team Lotus in place of the dropped Italian Jarno Trulli, will start 21st on the grid.
Vitantonio Liuzzi was second slowest in front of Hispania team mate Daniel Ricciardo but the Italian will start from the back having been given a penalty for changing gearboxes.