As the holder since Sunday of all four grand slam titles, Novak Djokovic has no equal in tennis, but as an artist he isn't quite up to scratch -- or so said perennial Roland Garros favourite Gustavo Kuerten.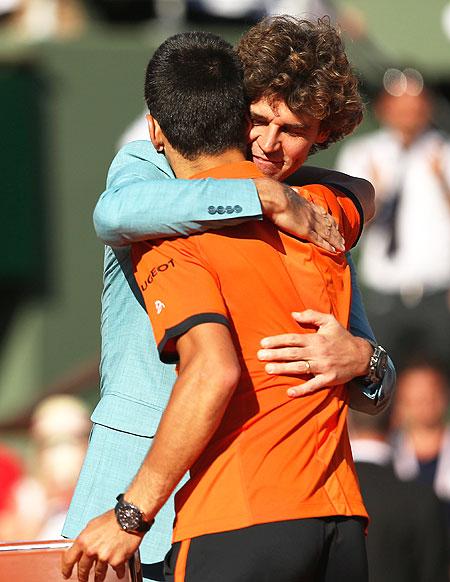 In 2001, after winning his third Paris title, Kuerten drew a heart on the court with his racket and fell backwards inside it to show his love for the tournament.
World number one Djokovic did the same on Sunday after seeing off Andy Murray in four sets, having sought permission from the Brazilian, who first drew a heart on Centre Court to celebrate a fourth-round win after saving a match point in 2001.
"He asked me for permission... He said if I win can I do it? I said of course," Kuerten, also known as 'Guga', told reporters.
"But mine was a little bit better, I would tell him 'you need to improve a lot'," he added with a big smile.
On a more serious note, the now retired Kuerten said that what Djokovic has been achieving on the court was 'scary'.
"He's getting even close to Roger (Federer)," said Kuerten, referring to the Swiss player's 17 grand slam titles.
Djokovic now has 12 and Kuerten believes he is still improving.
"In a year or two we're gonna see him with a real chance of getting the number of slams (that Federer has) and he is able to get better every single year," the Brazilian said.
Kuerten, who makes Djokovic his favourite for Wimbledon next month, said one thing he regretted was that nine-times French Open champion Rafael Nadal withdrew injured after the second round.
"It would have been a great match (against Djokovic) in the semi-finals," he said.
Image: Gustavo Kuerten hugs Novak Djokovic
Photograph: Clive Brunskill/Getty Images