Ace German driver Adrian Sutil will continue with Force India for a fifth consecutive season while Paul di Resta is set to make his debut with the Silverstone-based team in the 2011 FIA Formula One World Championship season.
Force India on Wednesday confirmed that it has finalised its driver line-up for the 2011 season, putting to rest weeks of speculation.
Besides, Sutil and di Resta, Force India will also have Nico Hülkenberg as the test and reserve driver as part of its long-term partnership.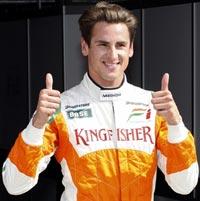 "I am genuinely excited by the drivers we will be fielding in 2011. I believe that the combination of talent we've assembled gives us one of the strongest line-ups on the grid," team principal and chairman of Force India, Vijay Mallya said.
"Adrian has matured into one of F1's most consistent and highly-rated young drivers, while Paul is, I believe, a real star of the future. He has won in every category in his career and this base speed was in evidence when he got in the car on Fridays last year.
"With Nico, signing him was too good an opportunity to let by. He showed a good racing head and talent and I was amazed by his control in Brazil last year. Together I think they are a formidable partnership and will help take us to the next level of performance," he added.
Twenty-seven year old Sutil enjoyed his most successful season in F1 last year, securing 47 points to help Force India to seventh position in the constructors' championship.
En route to his highest-ever drivers' championship classification, he notched up nine points scoring positions, including a fifth spot finish in the Malaysian Grand Prix.
"I made my F1 debut with the team back in 2007 and we've worked together since then, so to stay for another year here feels very right," Sutil said.
"I've always said that I feel good in this team, it feels like family and when you feel good, you are confident and can push to your maximum.
"We've made some good progress together over the past four years and I'm excited to be part of the team when it takes the next step, which is hopefully to become a front running team. We have the same ambitions so it makes a lot of sense to achieve them together," he added.