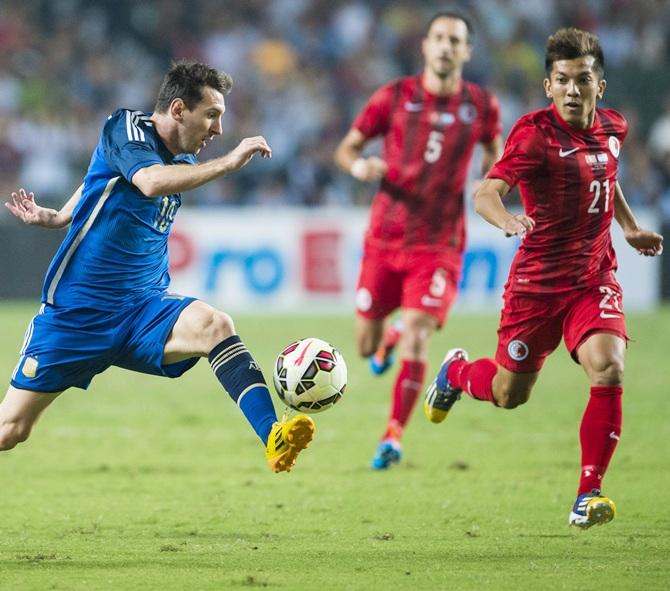 Lionel Messi of Argentina in action during the International friendly match against Hong Kong. Photograph: Victor Fraile/Getty Images
The Hong Kong Football Association were left red-faced and out of pocket after only managing to sell half the tickets for Tuesday's glamour friendly against Argentina to mark their centenary.
Only 20,230 turned up at the 40,000 capacity Hong Kong Stadium on Tuesday to witness a two-goal, 30 minute cameo by four-time world player of the year Lionel Messi in a lop-sided 7-0 stroll for the World Cup runners-up.
The South China Morning Post had reported months ago that the HKFA needed a full house in order to break even after pricing the cost of staging the fixture at HK$30 million (2.43 million pounds).
"It is a shame. The second-best team in the world is here and we have a half-empty stadium," HKFA Mark Sutcliffe told the paper after the match.
"We will have a debrief with the agent and with all of our team. We will try to find out the reasons."
Expensive ticket prices could be blamed, while many other Hong Kong residents simply have far more important things to worry about than football.
Thousands of pro-democracy protesters have taken to the streets of the Chinese-controlled city in recent weeks, demanding that Beijing stand by a promise to introduce universal suffrage at elections for its leader in 2017.
Central parts of Hong Kong have been brought to a standstill by protests now into their third week, although numbers have dwindled to hundreds after police intervention.
Yellow umbrellas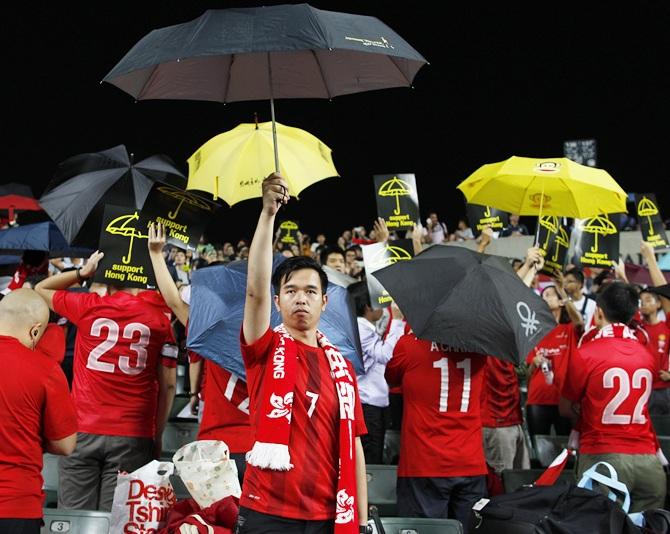 Occupy Central supporters hold up umbrellas when China's national anthem plays at the international friendly soccer match between Hong Kong and Argentina. Photograph: Tyrone Siu/Reuters
The political mood was captured during the Argentina match, where boos could be heard for the Chinese national anthem before kick-off and yellow umbrellas, a symbol of the Occupy Central movement, were seen in the stands.
Home fans, some wearing Argentina shirts, cheered as the visitors racked up the goals with Ever Banega opening the scoring before Gonzalo Higuain and Nicolas Gaitan also netted twice along with Messi.
One fan picked up an autograph from the Barcelona striker after running onto the field in a security breach, while Hong Kong forward Christian Kwesi Annan ended up collecting the prized possession of the Argentine skipper's shirt.
"I am saving it for life. I'm not going to trade it for anything. I'm going to frame it, put it on the wall and then treasure it," the Ghanaian-born striker told the paper.
There were no such valuables for the HKFA, however.
The paper said that HKFA chairman Brian Leung Hung-tak and president Timothy Fok Hun-tsing would pay for 80 percent of the losses on the match, with board members Ken Ng Kin and Pui Kwan-kay picking up the rest of bill.
After the prestige of the twice world champions, Hong Kong return to the more accustomed standards of life as the 164th-ranked FIFA nation when they travel to Taiwan next month to take on the hosts, North Korea and Guam in East Asian Cup qualifiers.
Figueroa header earns Honduras draw with US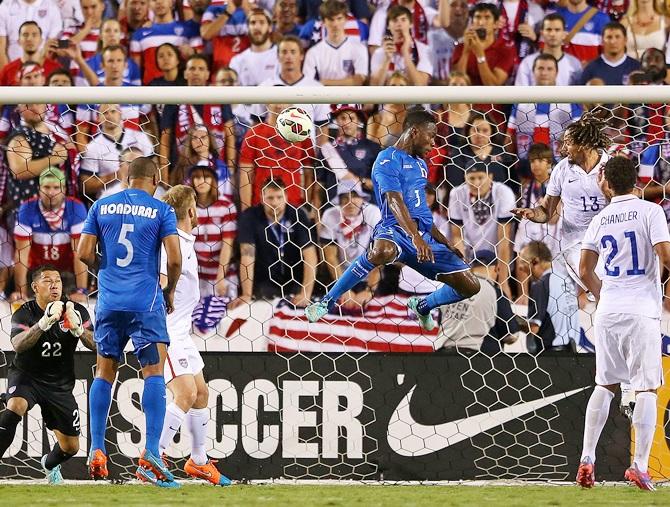 Maynor Figeroa, centre, of Honduras scores a goal during a game against the USA at FAU Stadium. Photograph: Mike Ehrmann/Getty Images
Maynor Figueroa's header four minutes from time cancelled out Jozy Altidore's opener and earned Honduras a 1-1 draw with the United States in their friendly on Tuesday.
Altidore has been struggling for form with his Premier League club Sunderland but, playing in his hometown, repaid the faith shown in him by US head coach Juergen Klinsmann.
The forward had a great chance to open the scoring in the eighth minute when he robbed Wilmer Crisanto and broke into the box but instead of shooting he delivered an awkward pass to Clint Dempsey, who screwed his shot wide.
Two minutes later, however, Altidore made amends in fine style, taking a ball from Michael Bradley, cutting inside past Victor Bernardez and firing a low shot into the bottom corner.
Honduras could have drawn level in the 20th minute when US goalkeeper Nick Rimando's poor clearance fell straight to Andy Najar but his lofted effort from 25 yards was just over the bar.
Hernan Medford's team applied some late pressure and it eventually paid off when Mario Martinez whipped in a free-kick from the right and Figueroa broke free of Jermaine Jones to head home the equaliser.
Klinsmann said the result was a fair reflection of a game in which his team were unable to maintain their positive start.