News of all that's transpired on and off the football field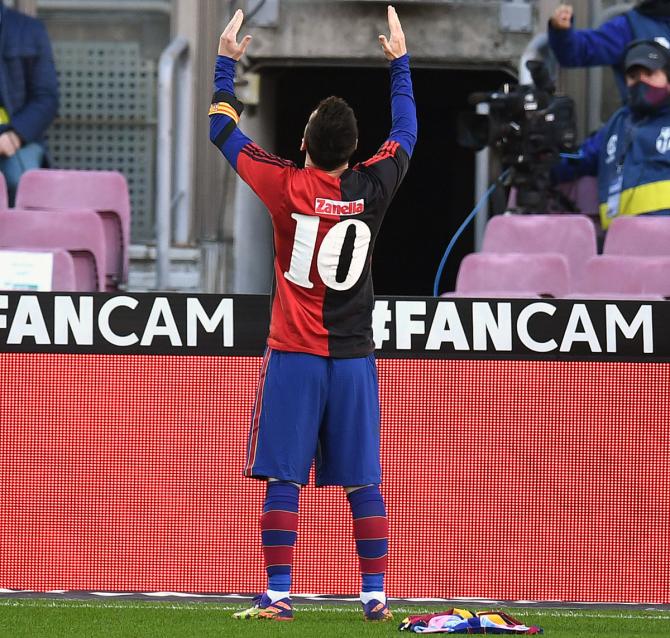 Lionel Messi and Barcelona have been fined a combined 780 euros (706.30 pounds) after the player was shown a yellow card for lifting his shirt to pay tribute to the late Diego Maradona following his goal in Sunday's 4-0 win over Osasuna.
Messi, who was fined 600 euros while his club were fined 180, paid homage to his late compatriot by taking off his Barca shirt to reveal a Newell's Old Boys shirt belonging to Maradona, a gesture that was praised around the world.
Yet the Spanish soccer federation's competition committee showed little sympathy when upholding the rules, rejecting Barca's protests against the punishment and their suggestion it should be waived as the gesture was a tribute to Maradona.
The committee's statement said that while it accepted the gesture was a tribute, article 93 of the disciplinary code states that a player should be punished for removing their shirt when celebrating, irrespective of the motive.
The statement added that Messi could only have had the sanction waived if he had been given the booking in error.
Messi supports Newell's Old Boys and played for the club's junior team before leaving for Barca aged 13.
He had also paid tribute to Maradona, who played for the Rosario side in 1993, when the World Cup winner died last Wednesday.
"He has left us but he isn't going anywhere because Diego is eternal," Messi wrote on Instagram.
Man City hit back at Porto over criticism of players
Manchester City have criticised Portuguese club Porto for their "ill-judged" and "targeted" criticism of the English team's players following Tuesday's 0-0 Champions League draw.
The result meant both sides advanced to the knockout phase of Europe's elite club competition but Porto were no happy with their opponents.
"The coach and players should even be grateful for the luck they had with refereeing again," Porto said in a newsletter n their website.
"After the scandals of the game in England, this time a penalty was missed for Ederson's more than obvious foul on Otavio."
Porto also criticised City players Bernardo Silva and Fernandinho, referring to Portuguese Silva's one-match ban last year over a Twitter post concerning French team mate Benjamin Mendy that was deemed to be racist. Fernandinho was accused of lacking class.
"This is not the first time that Porto have reacted badly in circumstances like this," a City spokesman said.
"On this occasion, it is the ill-judged and targeted criticism of some of our individual players and indeed our manager, which we wholly reject.
"In 2012, the last season we encountered them, it was the denial by the club of clear racist behaviour of their fans for which they were investigated and fined. In this context, this latest outburst it almost as surprising as it is disappointing."
City won the first Group C game against Porto 3-1 at the Etihad Stadium. They lead the standings going into the last round of matches with 13 points and Porto are second on 10.