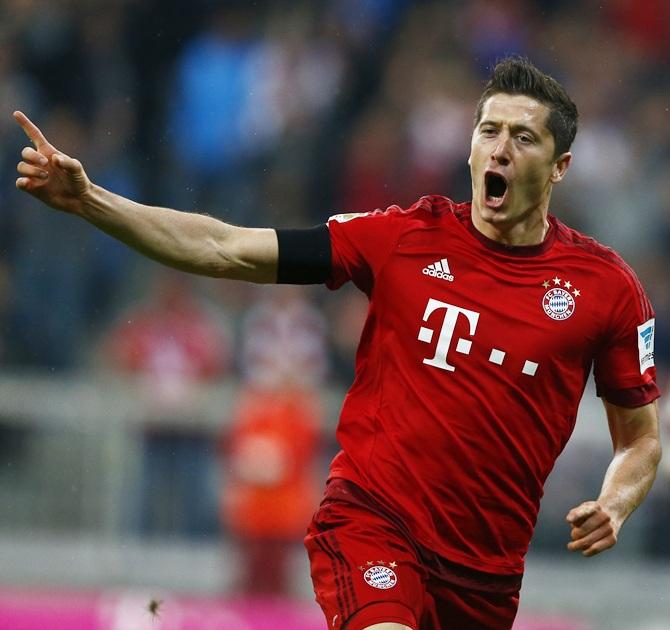 Bayern Munich's Robert Lewandowski has been named as the Bundesliga's Player of the Season.
Lewandowski won the prize with the maximum number of votes. Borussia Dortmund's Jadon Sancho was second while Kai Havertz of Bayer Leverkusen came third.
The current Bundesliga campaign has been one of the best for Lewandowski as he became the first player to score in 11 consecutive Bundesliga matches earlier this season.
He has managed to score against each of the teams currently playing in the Bundesliga.
Earlier this season, he also became the highest non-German goal-scorer in a single Bundesliga season, breaking the record previously held by Pierre-Emerick Aubameyang.
Lewandowski has scored 33 goals this season so far and he is on course to be Bundesliga's top-scorer for the fourth time in five seasons.
Bayern Munich have already won the Bundesliga title. With this, the side registered their eighth consecutive Bundesliga win.
The side currently has 79 points from 33 matches.
Bayern Munich will next take on Wolfsburg later on Saturday.
COVID-19 crisis may disrupt Manchester United transfer plans, says Solskjaer
Manchester United have likely taken a bigger financial hit from the COVID-19 pandemic than their rivals and it is unclear what funds will be available to sign players in the next transfer window, manager Ole Gunnar Solskjaer has said.
United withdrew their annual financial targets in May after losing about 23 million pounds ($28 million) in quarterly revenue due to the season being temporarily suspended because of the coronavirus crisis.
The Premier League restarted this month but fans have been barred from attending games, and Solskjaer said United, who also have 429 million pounds in debt, would adopt a cautious approach to spending.
"We'll have to take a big look at things ourselves to see how hard we've been hit," Solskjaer told reporters ahead of Saturday's FA Cup quarter-final match at Norwich City.
"It's not for me to say we are going to have X amount because I don't really know. We are a financially strong club, but we are also probably being hit more than anybody else."
United are fifth in the Premier League, five points behind fourth-placed Chelsea, with seven games left to play.
With second-placed Manchester City facing a European ban for breaching UEFA financial rules, fifth place should guarantee qualification for the lucrative Champions League, unless City win an appeal in the Court of Arbitration for Sport.
City will discover the fate of their appeal next month, while United could also qualify for Europe's elite club competition by winning the Europa League this season.
"Let's see how quickly we can get our fans back into the stadium," Solskjaer added.
"There's still a lot of uncertainty and these three or four months, every businessman in the world, every footballer in the world, I think everyone is still unsure what the effect will be."
Germany to begin Nations League campaign on Sept 3: UEFA
Germany will begin their 2020 Nations League campaign against Spain on September 3 as UEFA confirmed the revised schedule for the competition.
The tournament which saw its first edition being played in 2018-19, has moved the dates for its group stages due to the coronavirus pandemic.
The first edition of the tournament was won by Portugal.
"The 2020/21 UEFA Nations League group stage will be played on revised dates in September, October and November 2020. The new schedule was announced following a meeting of the UEFA Executive Committe to discuss the new European football calendar in light of the COVID-19 outbreak," UEFA said in an official statement.
"The national team football windows of October and November 2020 will now feature triple-headers instead of double-headers, thus allowing the postponed UEFA EURO 2020 play-offs to be rescheduled for 8 October and 12 November. The group stage matches of the 2020/21 UEFA Nations League will be played on the following dates: 3/4/5 and 6/7/8 September; 10/11 and 13/14 October; 14/15 and 17/18 November 2020. Friendly matches will be played on 7/8 October and 11/12 November," it added.
The first matchday will be on September 3 as Germany will lock horns against Spain.
Iceland will then host England on September 5 with reigning champions Portugal also in action at home against Croatia.
There will be six matchdays in total with the finals then set to be played at a yet to be confirmed date next year.
Portugal had defeated Netherlands in the finals of the inaugural edition of the tournament.
French football to return on July 24 with Coupe de France
The French Football Federation (FFF) has confirmed that the postponed Coupe de France and Coupe de la Ligue finals will be taking place on July 24 and 31 respectively.
Both matches were postponed in April this year due to the coronavirus pandemic as Prime Minister Edouard Philippe announced the need for putting a halt to all sporting events, Goal.com reported.
The FFF has confirmed that the Coupe de France final between Paris Saint-Germain and Saint-Etienne will take place on July 24.
A week later, PSG will then contest the Coupe de la Ligue final against Lyon.
Up to 5,000 supporters are expected to be allowed into the Stade de France to watch the two cup matches.
Last week, it was confirmed that stadiums will be able to open at a reduced capacity next month.
After these two matches, the 2020-21 French football season will be beginning on the weekend of August 22.
According to Goal.com, the Champions League final is scheduled for August 21, and the Ligue 1 schedule will be adjusted for Paris Saint-Germain (PSG) or Lyon should either said make it to that final game.
PSG was announced as the Ligue 1 winners as the French competition was called off midway due to the COVID-19 pandemic.
Former Argentina coach Bilardo tests positive for coronavirus
Carlos Bilardo, the man who coached Argentina to victory in the 1986 World Cup, has tested positive for the new coronavirus, a source close to his family told Reuters on Friday.
"They carried out a test and it was positive, although he has not shown symptoms and he is good," said the source.
His former club Estudiantes tweeted in support of Bilardo, their 82-year old former player and manager, who has been living in a nursing home in Buenos Aires since 2018.
He coached a team led by Diego Maradona to the World Cup in Mexico in 1986 and the final four years later and also won three Copa Libertadores titles as a player with Estudiantes between 1968 and 1970.
Argentina has reported 1,184 deaths from COVID-19, the disease caused by the new coronavirus, according to Health Ministry numbers.