Derby's Johnson hit with FA charge over 'biting' incident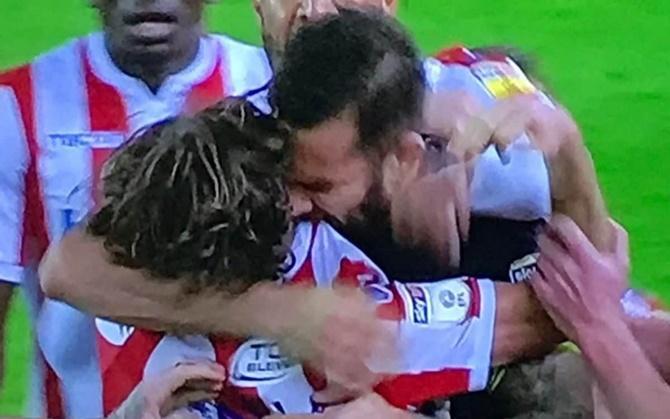 The English Football Association (FA) has charged Derby County midfielder Bradley Johnson with violent conduct for an alleged bite on Joe Allen in a Championship game, although the Stoke City midfielder played down the incident.
The pair clashed after Stoke's Oghenekaro Etebo was sent off in the side's 2-1 victory on Wednesday, with TV replays suggesting Johnson sank his teeth into Allen's shoulder.
Allen said Johnson had merely bitten his jersey but the FA said that after reviewing footage of the incident, the Derby player would face a trial by an Independent Regulatory Commission.
"Derby County's Bradley Johnson has been charged with violent conduct," the FA said in a statement.
"It follows an incident with Stoke City's Joe Allen during yesterday's game (Nov. 28) which was not seen by the match officials but caught on camera.
"It is alleged that the standard punishment of three matches that would otherwise apply is clearly insufficient."
Johnson faces a minimum four-game ban if found guilty. He has until 1800 GMT on Friday to respond to the charge.
FIFA to limit loan deals from 2020-21 season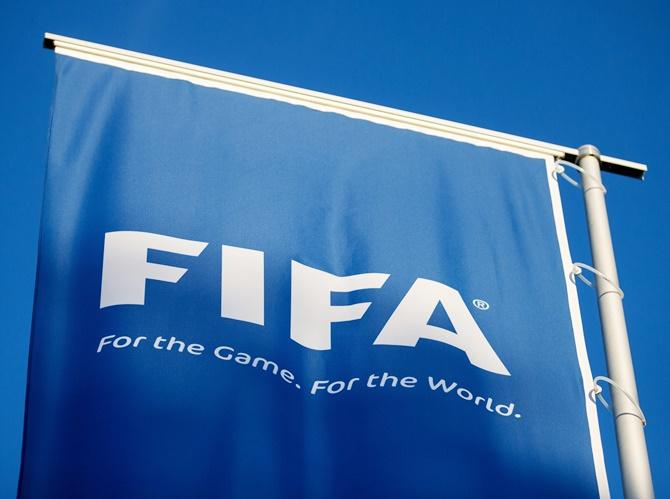 FIFA is set to introduce a limit on the number of players who can be loaned out by a single club for the 2020-21 season with the final figure to be settled early next year, British media reported on Monday.
Some European clubs have used the loan system to keep a large number of talented young players on their books, giving them a chance to play first team football elsewhere and often subsequently selling them on for a profit.
The report in The Times said the restriction had already been ratified by soccer's global governing body and the limit was likely to be set at between six and eight players with a maximum of two deals per season between any two clubs.
FIFA had said earlier this year that its stakeholders committee, featuring representatives from clubs, leagues, players and national associations, had backed proposals to reform the transfer system.
A FIFA task force report, seen by Reuters, had said the existing setup "sometimes prevents young players from fully developing their talent," adding that one unnamed club had loaned out 146 players between 2011 and 2017.
Following a meeting in London in September, the stakeholders committee had agreed that loans should be used for the purpose of youth development as opposed to "commercial exploitation".
It also backed stronger regulations for agents including limits on how much they could earn and on how many different parties they could represent in a given transaction.
Postponed Libertadores final to be played in Madrid
The postponed Copa Libertadores final second leg between Argentine clubs River Plate and Boca Juniors will be played at Real Madrid's stadium on Dec. 9, the South American Football Confederation (CONMEBOL) said on Thursday.
The match, originally scheduled to take place in Buenos Aires last Saturday but postponed after Boca players were hurt when River supporters attacked their coach, will take place in the Spanish capital on Sunday Dec. 9 at 8:30pm (1930 GMT).
"The decision is that this game is going to be played in front of fans from both clubs in Madrid at the Santiago Bernabeu stadium," CONMEBOL President Alejandro Dominguez said.
"(Madrid) is not only one of the safest cities in the world, the Santiago Bernabeu is an elite stadium that offers the highest standards of security and comfort for an encounter of this magnitude."
This year was the first time that Argentina's two biggest teams had met in the final of South America's equivalent of the Champions League and as usual away supporters were banned from both legs because of recurring fan violence.
The clubs drew the first leg 2-2 at Boca's ground in Buenos Aires and were due to play the second match across town at River's Monumental stadium last Saturday.
Boca players sustained injuries, however, when River fans attacked their coach as it approached the stadium and the game was first delayed until Sunday before being postponed indefinitely.
A CONMEBOL tribunal on Thursday also ruled against Boca's appeal to be awarded the match because of the violence but River were fined $400,000 and ordered to play their next two matches in continental competition behind closed doors.
Boca Juniors said it rejected the tribunal's decision and would appeal.
The violent incidents outside the Monumental were beamed around the world, embarrassing Argentina days before this weekend's G20 summit in Buenos Aires.
The task will now fall on Spanish authorities to ensure the game between two of the bitterest rivals in sport goes ahead peacefully at the 81,044-capacity Bernabeu.
Spanish Prime Minister Pedro Sanchez said on Twitter that his government were ready to host the match and were already working with law enforcement authorities to ensure security for the event.
Qatar, Miami, and stadiums in Brazil and Colombia were among the other possible venues discussed for the biggest game in the 58-year history of the Libertadores Cup.
Spain's position as a footballing hotbed with excellent flight connections to Latin America swung the decision in Madrid's favour, however.
Argentina ask coach Scaloni to stay for 2019 Copa America
Argentina have asked interim coach Lionel Scaloni to stay in charge of the team until next year's Copa America, the head of the Argentine Football Association (AFA) said on Thursday.
Scaloni, who was appointed to succeed Jorge Sampaoli after a disappointing World Cup in Russia where the South Americans win only one game and were knocked out in last 16 by France, has not formally responded to the offer but is expected to accept.
"We've seen Scaloni's work and as a result we are offering him the chance to continue until the Copa America," AFA president Claudio Tapia told reporters.
"The project is evolving and the national team is gaining an identity and that's what we want."
The Copa America takes place in Brazil next June and July and after losing the last two finals of the competition on penalties Argentina will be looking to win their first major title since they lifted the same trophy in 1993.
Although he has little experience as a top coach, the 40-year-old Scaloni has lost only one of his six friendlies in charge, a 1-0 reverse against Brazil in Saudi Arabia.
Argentina conceded only one goal in the six games, winning four and drawing one.