News of all that's transpired on and off the football field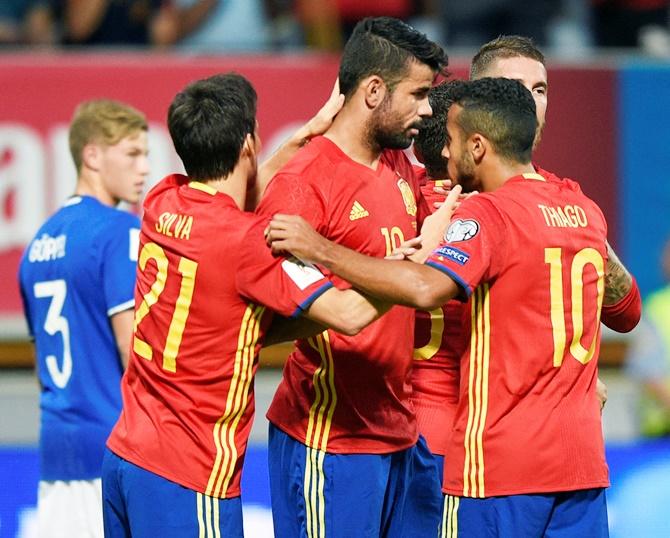 IMAGE: Spain's Diego Costa, centre, celebrates his goal with team-mates during the FIFA 2018 World Cup qualifier against Liechtenstein (Image used for representational purposes). Photograph: Eloy Alonso/Reuters
Spain's participation at the 2018 World Cup in Russia could be under threat after FIFA raised concerns about political interference within the Spanish football federation (RFEF).
Soccer's governing body has warned the RFEF that the Spanish government's involvement in the election for the football federation's new president could lead to them being expelled from next year's World Cup.
The RFEF is led by Juan Luis Larrea on an interim basis after former president Angel Maria Villar was forced to step down on corruption charges.
"We can confirm that FIFA recently sent a letter to the RFEF showing its concern with the situation the federation is in and reminding it that... all member associations should manage their affairs independently," FIFA said in a statement on Friday.
"All associations must be assured that there is no outside interference from third parties in its internal affairs. FIFA is in contact with the RFEF and in the next few weeks a delegation of FIFA and UEFA members will travel to Madrid to analyse the situation the RFEF is in."
Spanish newspaper El Pais reported that FIFA's concerns centre around the government's sports department pushing to hold new federation elections.
A statement from the RFEF said its president Larrea had discussed the situation with FIFA members at the World Cup draw on Dec. 1.
"The RFEF passed on these (FIFA's) concerns to the minister for sport and is expecting to organise a meeting on the matter. The RFEF wants everything to return to normal, that has always been the main objective of the current board of directors.
"We underline that we all want the national team to participate in the 2018 World Cup, especially after its brilliant qualifying campaign."
Spain captain and Real Madrid defender Sergio Ramos, speaking ahead of the Club World Cup final in Abu Dhabi, added: "I cannot believe that Spain could lose what we have worked so hard for on the pitch due to an institutional dispute, I struggle to believe that."
Spain's Prime Minister Mariano Rajoy said he was not concerned by the suggestion his country would be barred from competing in the World Cup.
Spain won the World Cup for the first time in 2010 and are one of the favourites to lift the trophy in Russia next year.
"I cannot contemplate that scenario, I'm absolutely convinced Spain will go to the World Cup and that we are going to win it," Rajoy told reporters in Brussels after a meeting of European Union member states.
"The government's behaviour is exemplary and those in charge of the department for sport (CSD) have the total support of the prime minister."
In 2015 Indonesia were banned from competing in qualifiers for next year's World Cup after FIFA said the central government had taken over its federation's affairs.
Syrian refugee's dream comes true with Messi meeting
A young Syrian refugee's dreams came true when she met Lionel Messi and his Barcelona teammates after the club invited her to attend a La Liga match earlier this month.
Nujeen Mustafa, 18, who suffers from cerebral palsy and is confined to a wheelchair, fled her hometown of Aleppo two years ago with her sister Nasrin.
The two girls made a 5,600km (3,479 mile) journey to Cologne where they were sheltered as refugees. After discovering that Nujeen was a fan of Barca, the club surprised her by arranging for her to visit Spain and watch them play Celta Vigo on December 2.
"Messi has a kind of a baby face, he looks younger even though he's 30, so it's like 'you have grown up now' because I know him since 2007," Nujeen told Reuters in an interview.
"At that time he looked like a baby," she added, before addressing the five-time Ballon d'Or winner:
"You have changed, you look like an adult now."
"He's a really shy guy, that hasn't changed," said Nujeen, who hopes Barcelona win six titles again to match their feat in 2009 when they won the King's Cup, La Liga, the Champions League, the Spanish Super Cup, the European Super Cup and the Club World Cup.
Nujeen, who speaks Arabic, French, English and German, has become a symbol of the United Nations refugee agency (UNHCR) and hopes peace will someday return to her country.
"Sometimes I feel homesick, I ask myself what am I doing here, I want to go back home where I lived and loved you know, but I want to move forward I don't like being a victim, I am a survivor.
"I dream of becoming a physicist and perhaps an astronaut and I dream of... yeah one of my dreams is to meet the Queen of England and I still want to."
UEFA rejects AC Milan plea to waive FFP rules
European soccer's governing body UEFA has rejected a request by AC Milan to waive the Financial Fair Play (FFP) rules, citing uncertainties in the Italian soccer club's financial situation, it said on Friday.
Under UEFA regulations, any European soccer club that spends more than its generated revenue faces possible sanctions, including, in certain circumstances, a ban from playing.
However, a club can ask for a waiver to the FFP under a so-called 'voluntary agreement' scheme.
Milan had asked UEFA to be able to exercise its right to waive the FFP rules after Chinese entrepreneur Li Yonghong bought the club from Italian holding company Fininvest.
"There are still uncertainties in relation to the financing of the loans to be paid back in October 2018 and the financial guarantees provided by the main shareholder," UEFA said in a statement.
"AC Milan will continue to be subject to the ongoing monitoring process and the situation will be assessed again in the first months of 2018," it added.