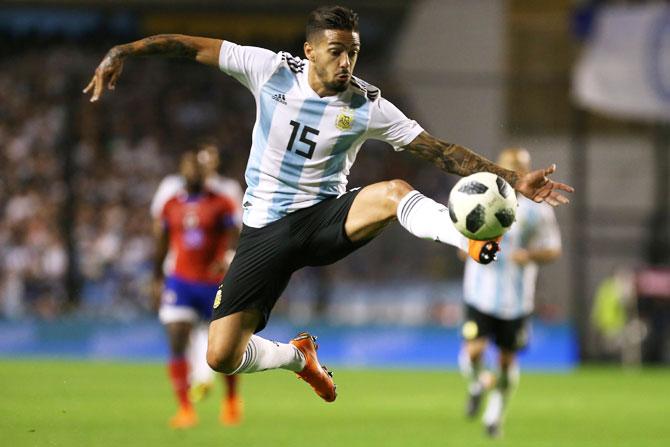 Argentina midfielder Manuel Lanzini will miss the World Cup after injuring a knee in training.
"Manuel Lanzini suffered, in today's morning training, the rupture of the anterior cruciate ligament of his right knee," the national side announced on Twitter on Friday.
The World Cup starts in Russia next week and the West Ham United player's absence will be a blow for manager Jorge Sampaoli.
Argentina, who lost in the World Cup final four years ago but only qualified for this year's tournament by winning their final qualifying match, have been drawn in Group D alongside Iceland, Croatia and Nigeria.
Liverpool confirm departure of Can and Flanagan
Germany midfielder Emre Can is leaving Liverpool, along with out-of-favour defender Jon Flanagan, the Premier League club confirmed on Friday.
Both were out of contract this summer.
Can, who joined from Bundesliga side Bayer Leverkusen in 2014, looks set to join Juventus in Serie A.
The 24-year-old played his 167th and final game for Liverpool in last month's Champions League final defeat by Real Madrid and has not been included in champions Germany's World Cup squad.
Liverpool have already announced the signing of Brazilian midfielder Fabinho from AS Monaco for a fee that British media put at about 40 million pounds ($54 million).
Flanagan, 25, made headlines earlier this year when he was sentenced to a 12-month community order for assaulting his partner.
The Liverpool-born academy graduate made 51 senior appearances for the Merseyside club but his last game was a League Cup defeat to LeicesterCity in September 2017.
Capped once by England in a friendly international, he spent the end of last season on loan to Championship side Bolton Wanderers.
Players should not play over three games in two weeks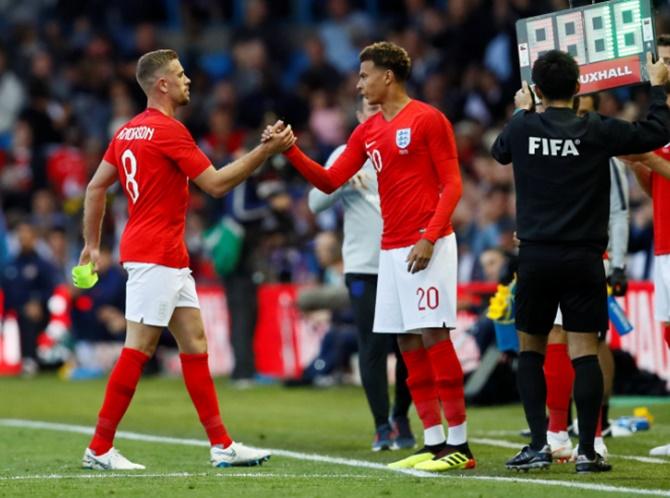 Professional footballers should not play more than three games every two weeks and should have a close-season break of four to six weeks, uninterrupted by pre-season training, their global union FIFPro said on Friday.
FIFPro also called for a minimum 72 hours' recovery time between games, extra recovery time after long international flights and a mid-season break of between 10 to 14 days.
It's proposals were based on a survey of 543 professional footballers, conducted between February and April, where one third of those surveyed said they were playing too many matches.
"Some of the world's leading players feel they are playing more than their comfort level, which makes them vulnerable to injury," said FIFPro's medical officer Vincent Gouttebarge.
"It's important that all national-team members returning to their clubs after the World Cup in Russia are given enough time to fully recuperate."
Forty percent of the players surveyed said their performances were adversely affected by playing too many matches and the same number said they did not get enough rest between matches, FIFPro said.
Sixty percent said that flights more than two hours long negatively affect their performance, health and recovery time.
FIFPro called on global soccer body FIFA, leagues and clubs to implement its proposals.
"The health and performance capacity of players is not adequately safeguarded in current competition calendars," said FIFPro general secretary Theo van Seggelen.
"Many players are coming under extreme pressure to perform at their best in difficult circumstances.
"We just recently saw many World Cup players being called up to their national team during a FIFA mandatory rest period (May 21-27) and likely they will join their club teams soon after the tournament as well."
Van Seggelen said there needed to be a better balance in the international match calendar which sets asides dates for national team matches and international tournaments.
The World Cup in Russia will take place from June 14 to July 15.
'City need more titles to be considered best'
Manchester City manager Pep Guardiola believes the Premier League champions need to build on his maiden title in charge of the club if they want to be considered among the best sides in English soccer history.
City claimed a third title in seven seasons in record-breaking fashion as they racked up the highest number of victories, points and goals in a campaign, leading many fans and commentators to hail them as the one of the all-time greats.
"We are the best? I'm not sure of that," Guardiola, who joined Manchester City in 2016, said in an interview with This is Premier League.
"I'm completely with the people who say that to be considered the best team in the history of English football you have to win more. We won one Premier League (title)."
The Spanish boss also said that maintaining the strong team spirit from last season would be key to mounting another title challenge.
"Last season (his first) and this season one of our strong points is our locker room," he added. "The quality of the human beings they are, how they connect with the rest of the staff, that is I would say the main secret, that counts a lot to me."
Brazil midfielder Fred suffers ankle 'trauma' in training
Brazil's Manchester United-bound midfielder Fred injured his ankle in training on Thursday, a week before the start of the World Cup in Russia, British media reported.
The BBC and Sky Sports television quoted the team doctor as saying the 25-year-old had suffered a 'trauma in his ankle' during training in north London.
"At the moment it is too early to say anything about him," said doctor Rodrigo Lasmar.
"On Friday, we watch to see what happens and then decide if we need to do any exams or not."
Sky reported he had been caught on the ankle by team mate Casemiro. Video footage showed the player hobbling after the tackle.
Manchester United this week agreed to sign Fred from Ukraine's Shakhtar Donetsk in a deal that British media have put at some 52 million pounds ($70 million).
Five times World Cup winners Brazil have been using Tottenham Hotspur's training ground to prepare for the tournament. They play a friendly against Austria in Vienna on Sunday.
Ghana to dissolve football association over bribery allegations
Ghana has decided to dissolve its national football association a day after officials, including the body's president, were shown in a documentary taking kickbacks, the information minister said on Thursday.
The two-hour documentary, "When Greed and Corruption Become the Norm" by undercover journalist Anas Aremeyaw Anas, was provided to the authorities last month before being screened in public for the first time on Wednesday.
Ghana Football Association (GFA) President Kwesi Nyantakyi did not respond to multiple requests for comment. The GFA said it would cooperate with any investigation.
Nyantakyi, who is also a member of the FIFA Council, the world football body's legislative organ, was filmed in a hotel room taking a $65,000 bribe from a supposed businessman seeking to sponsor the Ghanaian football league.
Information Minister Mustapha Abdul-Hamid said in a statement that the government was shocked and outraged at the contents of the documentary and would refer the alleged culprits to the police for investigation.
"Having regard to the widespread nature of the apparent rot involving top GFA officials, NSA (National Sports Authority) officials, match commissioners, football administrators and referees, Government has decided to take immediate steps to have the GFA dissolved," he said.
He said the government would soon announce provisional measures to govern football activities until a new association could be formed.
Juventus sign Brazilian winger Costa on permanent deal
Juventus have signed Brazilian winger Douglas Costa from Bayern Munich on a permanent deal after a successful loan spell, the Italian champions said on Thursday.
Costa has agreed a four-year contract with Juventus after they triggered the option to buy the player from Bayern for a fee of 40 million euros ($47.2 million) to be paid over two years.
The 27-year-old scored six goals in 47 competitive appearances during his season-long loan with Juventus, helping them to win the Serie A title and Coppa Italia.
Costa proved to be one of the most creative players in the Italian league, also providing 14 assists.
Leicester sign defender Evans from West Brom
Leicester City have signed defender Jonny Evans on a three-year contract from Championship side West Bromwich Albion, the Premier League club said on Friday.
The former Manchester United centre back made 96 appearances for West Brom in all competitions since joining the club in 2015 but the Hawthorns outfit were relegated to the second-tier Championship last season.
Leicester activated the 30-year-old's relegation release clause with British media reports saying the club will pay 3.5 million pounds ($4.7 million) in two instalments to West Brom.
"It's great to join and I'm happy it's all gone through. When this opportunity came up, it's one that I couldn't turn down. It's an ambitious club, the owners are ambitious and everyone wants to push the club forward," Evans told Leicester's website.
Northern Ireland international Evans is Leicester's second signing in the close season after Portuguese defender Ricardo Pereira's arrival last month.