News of all that's transpired on and off the football field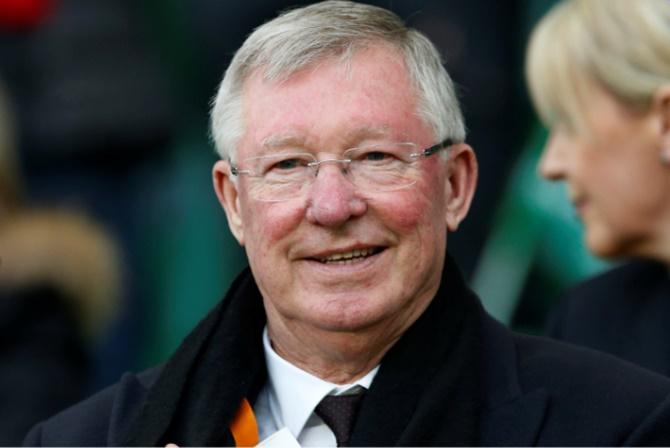 Former Manchester United manager Alex Ferguson is out of intensive care after undergoing emergency surgery for a brain haemorrhage, the Premier League club said on Wednesday.
Ferguson, the most successful manager in Manchester United's history, had surgery on Saturday.
"Sir Alex no longer needs intensive care and will continue rehabilitation as an inpatient," United said in a statement on Twitter.
"His family have been overwhelmed by the level of support and good wishes but continue to request privacy as this will be vital during this next stage of recovery."
Ferguson collapsed at his home on Saturday and was taken to Macclesfield district hospital at around 9am local time.
He then received a police escort to rush him to another hospital in Salford where he was operated on.
United issued a statement on Saturday saying the procedure had gone well, but Ferguson would need a "period of intensive care to optimise his recovery".
The 76-year-old Scot was United manager from 1986 to 2013, winning the Champions League twice, the Premier League 13 times and five FA Cups.
He was knighted in 1999, the year United won the treble of Champions League, Premier League and FA Cup.
Arsene Wenger and Pep Guardiola, two leading Premier League managers, expressed their delight at hearing that he was out of intensive care.
Everton's Rooney set to join MLS club DC United: Reports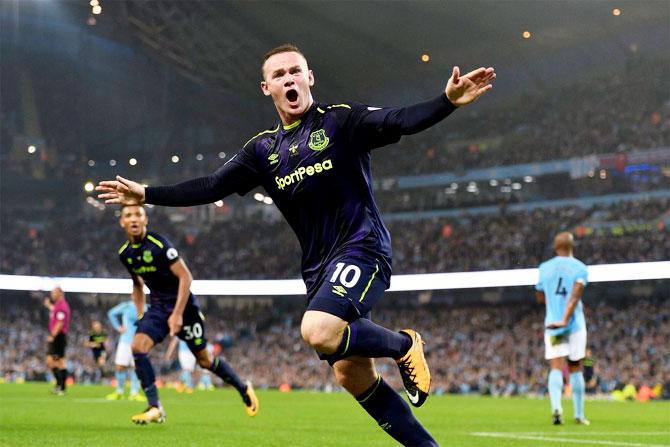 Former England captain Wayne Rooney has agreed a deal in principle to move from Everton to Major League Soccer (MLS) club DC United, British media reported on Thursday.
The 32-year-old forward is set to sign a contract until the end of 2020 season and the move could be completed when the MLS mid-season transfer window opens on July 10.
Rooney, capped 119 times by England, rejoined his boyhood club Everton at the start of the season on a two-year deal after 13 trophy-laden years at Manchester United.
He scored the last of his 11 goals for the Merseyside club in December and manager Sam Allardyce has suggested he could not guarantee the player a regular starting spot next season.
At United, Rooney won five Premier League titles, the Champions League, FA Cup and was named Footballer of the Year in 2010.
Barcelona announce South Africa friendly to mark Mandela centenary
La Liga champions Barcelona will play a friendly against South African champions Mamelodi Sundowns in Johannesburg on May 16 as part of celebrations to mark 100 years since the birth of Nelson Mandela, the Spanish club said on Thursday.
The game is being played at the FNB stadium, formerly known as the SoccerCity stadium, where Spain won the 2010 World Cup with a team featuring Barca players Gerard Pique, Sergio Busquets and captain Andres Iniesta, who struck the only goal in their 1-0 win over the Netherlands.
"FC Barcelona has always professed its admiration for Nelson Mandela, one of the greatest figures of the 20th century, who after 27 years in prison went on to become the first democratically elected president of post-apartheid South Africa from 1994 to 1999," said a statement on the club's website.
"Mandela represented the struggle for freedom and equality in the country, and played a huge role in unifying the racially divided society. It is precisely this kind of spirit with which FC Barcelona has always been identified."
Mandela was born on July 18, 1918.
The friendly is sandwiched between Barca's penultimate Liga game away to Levante on May 13 and their final game at home to Real Sociedad on May 20.
Ernesto Valverde's side clinched a 25th Liga title on April 29 and the King's Cup on April 21 and are bidding to become the first team since 1933 to complete a Spanish top flight season without losing a game.
Juventus rout AC Milan to win Coppa Italia again
Juventus won the Coppa Italia for the fourth year running and a record 13th time with a crushing 4-0 victory over AC Milan who suffered a second-half meltdown in the final on Wednesday.
Central defender Medhi Benatia struck twice for Juventus and Douglas Costa was also on target on an unhappy evening for Milan goalkeeper Gianluigi Donnarumma who was at fault for the second and third goals.
An own goal by substitute Nikola Kalinic completed a calamitous defensive display by Milan.
Juventus, who became the first team to win the competition without conceding a goal, are almost certain to add this year's Serie A title to their trophy cabinet and complete a fourth successive double.
The Turin side are six points clear of Napoli with two games to play and their goal difference is better by 16.
"The lads played an extraordinary game and deserved this win, taking nothing away from Milan who had a good first half," Juve coach Massimiliano Allegri said.
His counterpart Gennaro Gattuso, who had been hoping to lead Milan to their first title since 2011, said his team had played better until the first goal.
"That's football," he said. "Juventus barely troubled us for the first 56 minutes apart from a (Mario) Mandzukic header. But we paid for our mistakes.
"I feel bad that we brought 35,000 people here to watch us lose like this."
After an even first half with few clear chances, the game changed completely in the second half and was effectively settled in a 10-minute spell.
Donnarumma got down low to his right to make a superb save from Paulo Dybala's rasping drive but that was as good as it got for the 19-year-old.
From the resulting corner, Benatia got away from his marker and stooped to head Juve in front after 56 minutes.
Five minutes later, Donnarumma allowed a low shot from Costa to slip through his hands and into the net and the hapless goalkeeper then failed to hold a header, allowing Benatia to snap up the rebound.
Milan, who like Juventus had not conceded a goal on the way to the final, brought on striker Kalinic but the Croat scored at the wrong end, heading in a corner at the near post under no real pressure in the 76th minute.
Dortmund's roller coaster season ends with Champions League battle
Borussia Dortmund's roller coaster Bundesliga season culminates on Saturday in a desperate battle to secure Champions League qualification on the final matchday against Hoffenheim, their rivals for a European place.
Dortmund must earn at least a point at Hoffenheim in order to make sure of a top-four finish, which guarantees a place in the Champions League group stage for next season.
The Ruhr valley club are in third place on 55 points, three ahead of fourth-placed Hoffenheim and Bayer Leverkusen in fifth.
Defeat to Hoffenheim and a win for Leverkusen could potentially drop Dortmund down to fifth, out of the lucrative Champions League, with the publicly-traded club missing out on millions of euros in revenue.
Dortmund had kicked off their campaign hoping they could be title contenders, giving champions Bayern Munich a run for their money.
With six wins in their first seven matches at the start of the season, things looked to be going their way under new coach Peter Bosz.
Yet fast forward only a few months to December and an eight-game winless streak brought Bosz's spell to a quick and disappointing end.
Only days after his own sacking from Cologne, coach Peter Stoeger joined Dortmund as Bosz's successor but the Austrian failed to inject much-needed consistency.
An ignominious exit to RB Salzburg in the Europa League over two legs was followed by just two wins in their last six Bundesliga matches, leaving their Champions League hopes in the balance.
The departure of their top scorer Pierre-Emerick Aubameyang to Arsenal in January did not help their situation and results this year have done little to convince Dortmund bosses that Stoeger deserves a contract extension.
The Austrian is widely expected to announce his departure after the last matchday.
Spain must be prepared for VAR, says coach Lopetegui
Spain coach Julen Lopetegui has said that his players must be prepared for the psychological impact of frequent stoppages at the World Cup due to Video Assistant Referee (VAR) technology.
Most of the squad play in La Liga where the system is not used and have therefore not had the experience of frequent pauses in play which are likely at the finals in Russia, where VAR will be rolled out for the first time at a World Cup.
"We need to prepare for it (VAR) because there will be moments that we are not used to, we have to be prepared for stoppages and restarts," Lopetegui told reporters at a roundtable with international news agencies.
"We need to understand what the rules are, what the referee's priorities are so we can act accordingly. This is something new to us as it doesn't exist in Spain and we need to be ready for it at the World Cup where it will exist."
Spain have been drawn in Group B at the World Cup and face Euro 2016 winners Portugal in their first game in Sochi before playing Iran and Morocco.
Bold Iceland aiming to reach last 16
Emboldened by their Euro 2016 campaign and bolstered by their natural optimism, ambitious Iceland say they are aiming to reach at least the last 16 at this year's World Cup in Russia.
Coach Heimir Hallgrimsson recognised that they had been placed in a tough group alongside Argentina, Croatia and Nigeria, but refused to be deterred.
"They are going to be a tough three games against teams who all have big experience at the World Cup and we have none," he told Reuters during an interview at the FIFA Musuem. "But at Euro 2016, we played our best games against the big teams."
Iceland, with a population of 340,000 and a pool of only around 100 professional footballers, are the smallest country to have qualified for a World Cup.
They made their debut at a major tournament at Euro 2016 where they drew with Portugal and Hungary, beat Austria and England and finally lost to hosts France in the quarter-finals of an extraordinary campaign.
Ireland's O'Shea announces international retirement
Republic of Ireland defender John O'Shea will retire from international football after the June 2 friendly against the United States, the 37-year-old has said.
O'Shea, who plays for English third-tier side Sunderland, made his Ireland debut in 2001 and has since gone on to become one of six senior players to earn 100 caps for the nation, winning 117 caps over an illustrious 17-year career.
"I have certainly cherished my international career, it will be emotional walking out for the final time in front of the Ireland supporters," O'Shea said in an open letter to fans on the Football Association of Ireland's (FAI) website.
"But it is now time to say thank you and allow others to lead the team forward, it's been an amazing honour to wear our green shirt."
O'Shea, who played 389 matches for Manchester United before joining Sunderland in 2011, also offered a message of support to former manager Alex Ferguson, who underwent emergency surgery for a brain haemorrhage last weekend.
Sunderland were relegated to the third-tier League One after finishing bottom of the Championship this campaign.
Moyes unsure of West Ham's ambition ahead of contract talks
David Moyes turned down an offer from a Premier League rival to manage West Ham United but is unsure if the London outfit can match his ambition to fight for a top-half finish, the 55-year-old has said.
The former Manchester United, Everton and Sunderland manager took charge at West Ham in November and has led the club's rise from the relegation zone to 15th position in the league.
The Scot helped West Ham secure their top-flight status for next season with a 2-0 win at Leicester City last weekend.
"I could have joined a Premier League club during the season here, when I was West Ham manager," Moyes told a news conference.
"I chose not to. But I've got other things if it's not renewed. It's not a problem."
Despite his achievements, there is uncertainty surrounding Moyes' future at the London Stadium and the manager wants assurances from West Ham before he commits to the club.
Carvalhal to leave Swansea at the end of the season - reports
Swansea City manager Carlos Carvalhal will leave the Premier League club at the end of the season, British media reported on Thursday.
The 52-year-old's contract expires at the end of the season but the club are not expected to exercise their option to extend it, the Guardian newspaper and the BBC reported.
Swansea, who are third from bottom in the table, are almost certain to be relegated on Sunday.
Players union warns FIFA not overlook health implications of new tournaments
The well-being and health of footballers must be a priority for global soccer body FIFA as it makes plans for two major new international soccer tournaments, the world players' union said on Thursday.
FIFPro said in a statement that it would be neglecting its duty if it did not look at the impact on players' health of FIFA president Gianni Infantino's ambitious plans for a global Nations League and a revamped 24-team Club World Cup.
Infantino's proposed Club World Cup would involve expanding it to 24 teams — including 12 from Europe — and staging it every four years, starting from 2021, instead of annually as happens at present.
The Nations League would be a global version of the new competitions which are being introduced by UEFA in Europe and by CONCACAF in North and Central America and the Caribbean.
It would culminate in an eight-team knockout tournament -- effectively a mini-World Cup -- held every two years, also starting from 2021.
These new tournaments would be on top of existing competitions such as the World Cup and its qualifying competition, the European championship, Copa America and African Nations Cup.
"In the light of the current discussions, it would be remiss if FIFPro did not explore the impact of these proposals on players," FIFPro's European president Bobby Barnes told a meeting in Serbia.
"While other stakeholders might have other priorities, the health and wellbeing of the players has to be our first priority," he said, according to a FIFPro statement.
FIFPro said it recently surveyed more than 600 footballers for their views on the current match calendar, and is studying scientific evidence about the amount of recovery time players need between matches.
Last week, European Leagues, an umbrella group representing Europe's top football leagues, said they were in "firm opposition" to the plans of FIFA president Infantino.
A statement urged European soccer's governing body UEFA to ally with the World League Forum, the European Clubs Association and FIFPro to "firmly oppose and together stop this unilateral initiative from FIFA and the process which lacks of transparency and a proper consultation with the stakeholders."