News of all that's transpired on and off the football field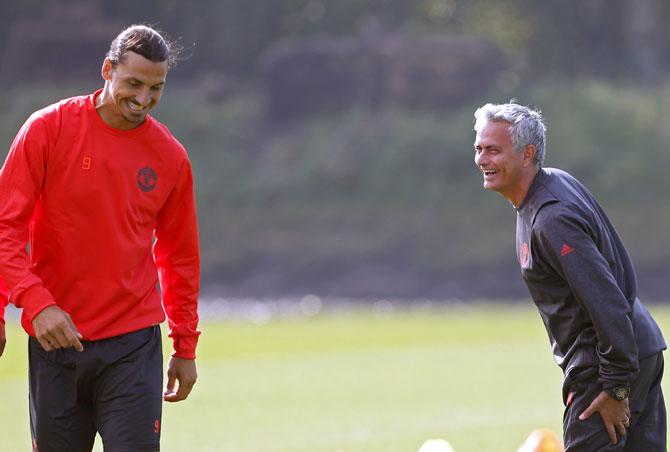 IMAGE: Manchester United manager Jose Mourinho (right,) with Zlatan Ibrahimovic. Photograph: Ed Sykes/Reuters
Manchester United striker Zlatan Ibrahimovic will hold talks to extend his stay at the Premier League club despite receiving offers from other clubs, the 35-year-old's agent Mino Raiola has said.
Ibrahimovic joined United on a year-long contract before the 2016-17 campaign and was vital to their League Cup and Europa League triumphs, scoring 28 goals in 46 appearances before sustaining a season-ending knee injury in April.
"He wants to stay in England, he wants to stay at the top and if he sees that he can be a valuable asset for Manchester United, then why not Manchester United?" Raiola told British radio broadcaster TalkSPORT on Wednesday.
"He can be a valuable asset for some other top clubs also. But I think it is respectful to talk to Manchester United and to see what all parties want."
Raiola said no talks had been held so far as the striker looks to recover from his injury.
"We have a lot of offers and ideas and we have to evaluate them," Raiola said.
"He has had a fantastic time at Manchester United and it is up to the club and myself to see what the future brings.
"For now, it is important he recovers well and then we will see."
There has been no set timeline for Ibrahimovic's recovery but the Swede posted a video of himself at training on his Instagram account on Wednesday, just 42 days after sustaining the serious injury.
Brazil cemetery loses bones of World Cup winner Garrincha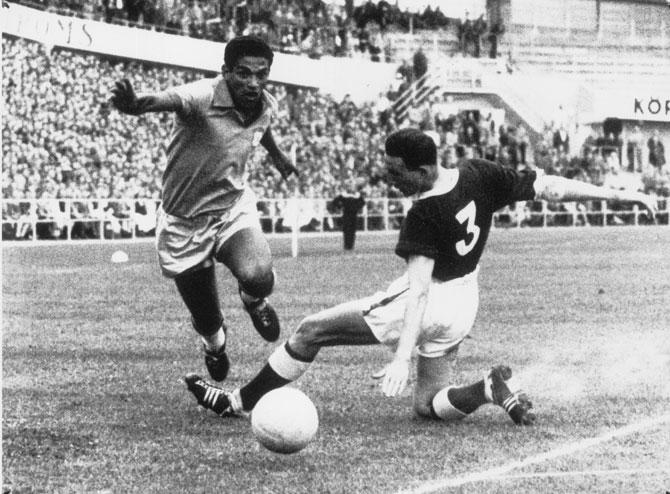 IMAGE: A file photo of Brazilian right winger Garrincha (left) and Welsh player Hopkins vieing for possession. Photograph: Central Press/Getty Images
The Brazilian cemetery where twice World Cup winner Garrincha was buried in 1983 has lost the player's bones, family and officials in his home town said on Wednesday.
Garrincha, who was nicknamed 'the Joy of the People' for his brilliant performances on the right wing, won World Cups in 1958 and 1962 alongside players such as Pele and Mario Zagallo.
He died in 1983 after a long battle with alcoholism and was buried in his home town cemetery in Mage, around 40 miles from Rio de Janeiro.
News reports on Wednesday said his remains had been exhumed and there was no record of what happened to them.
"From our research, we're not sure he's still buried," a cemetery official told Rio's Extra newspaper.
"We have information that the body was exhumed and taken to a niche but there is no documentation about the exhumation."
Brazilian cemeteries are usually split into two sections, with tombs where bodies are buried and walls with drawer-like concrete niches where ashes or bones are stored.
The Raiz da Serra cemetery in Mage has two tombs with Garrincha's name on them.
One is a plot where Garrincha was originally laid in 1983 alongside other members of his family. The second is marked with an obelisk and was built in 1985.
The city mayor's office later issued a statement that said they had no precise record of where the player's bones were but suspected they were in one of the two plots. The office stressed they were not lost.
"At no time did we say or did we believe that his mortal remains had gone missing," the statement said.
"In the face of this doubt the mayor's office has begun proceedings, in the public interest and of those of Garrincha's family, to resolve this question once and for all.
"Therefore the municipality is looking to get the authorisation for an exhumation, for both the transfer of the genetic material necessary for an exam and (to find) the whereabouts of his mortal remains."
Officials are expected to ask Garrincha's family to provide DNA samples to help them confirm the bones in one of the plot's are Garrincha's.
Garrincha's daughter Rosangela Santos told Reuters that a gravedigger at the cemetery informed her that her father's remains were likely to be in one of the two graves.
"We don't know for sure where he is," she said.
"The mayor has promised him a mausoleum but they need to find him first.
"It's very upsetting not knowing where he is."
Lukaku can leave Everton if 'certain clubs' offer contracts: agent
Everton will allow striker Romelu Lukaku to leave if "certain clubs" present bids that meet the 100 million pound ($128.66 million) price tag placed on him by the Premier League side, his agent has said.
Lukaku, 24, is the club's top scorer this season with 25 goals in 36 league appearances and helped his team secure a seventh placed finish but rejected a new contract at the Merseyside club in March.
"Lukaku had a promise that if certain clubs came, that he could leave this summer," his agent Mino Raiola told British broadcasting station TalkSPORT.
"We are not in concrete talks with anybody at this moment, but hearing the market I think some clubs will contact Everton.
"If the price is right for Everton and the project is right for Lukaku then I think he will want to make another step, but we are not there yet."
Raiola would not call the massive price tag placed on the Belgian international excessive.
"In two years' time maybe 100 million pounds for a guy who makes (scores) 26 goals is a good deal," Raiola said.
"The market will be ruled by the people who buy so if there is a club that needs Lukaku and thinks he is worth £100m, then Everton are right (to ask for £100m)."
He said that Lukaku had an amicable relationship with the club despite rejecting the contract.
"At that moment we decided not to sign the contract but I have to say the relationship with the club is very good and we knew if someone would come and satisfy Everton then there is a possibility that he leaves," Raiola said.
Confidence boosting win for Dutch in Morocco
Quincy Promes and Vincent Janssen scored on either side of half-time to give the Netherlands a confidence boosting 2-1 triumph in their friendly in Morocco on Wednesday.
It marked only the second victory in the last six internationals for the Dutch, who are floundering in fourth in their European qualifying group for next year's World Cup and fired coach Danny Blind in March.
With new coach Dick Advocaat yet to take up the reigns as he finishes with Fenerbahce in Turkey, Fred Grim was caretaker for a second match as the Dutch used the game to prepare for their World Cup qualifier against Luxembourg in Rotterdam on June 9.
Promes gave the Dutch a first half lead which Janssen doubled in the 68th minute but they then had teenage defender Matthijs de Light sent off and Amsterdam-born Mbark Boussoufa pulled one back for Morocco.
The home side were using the match to prepare for their African Nations Cup qualifier against Cameroon on June 10.
The Dutch had the first chance in the 15th minute when Janssen played the ball in from the left and found Promes with space and time to shoot but he did not connect properly from close range and miscued the effort. Promes did not waste a second chance seven minutes later after being set up by Memphis Depay, who dribbled around a defender and then laid it back for a regulation finish. Promes was the provider for Janssen with a cross from the right that found the Tottenham Hotspur striker with space to chest the ball down and poke it home.
Two minutes later 17-year-old De Ligt was sent off for pulling down Walid Azarou as he bore down on goal and Boussoufa bent the free kick expertly into the net. Morocco, who had six Dutch-born players in their squad, caused their visitors problems at set pieces and staged a late rally in search of an equaliser but to no avail.